We're just under a month away from free agent frenzy and the potential UFA class is loaded. Franchise icons like Evgeni Malkin, Kris Letang, Claude Giroux, and Patrice Bergeron are all without contracts. Top-six pivots like Nazem Kadri, Ryan Strome, and Vincent Trocheck appear to be available. Even a few interesting goaltending targets are about to hit the market. But ahead of all those, at least according to some, is Johnny Gaudreau, arguably the top free agent available after his 115-point regular season.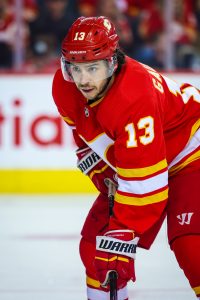 Gaudreau, 28, has long been one of the most dynamic offensive players in the league but this season he took it to an entirely new level. After a few rather disappointing goal outputs, he set a new career-high with 40 tallies, while playing on arguably the most effective line in hockey. His plus/minus was a staggering +64 to lead the league, as a huge amount of his damage was done at even-strength.
The Calgary Flames, knowing that he is the lynchpin of their offense, are trying hard to sign Gaudreau to an extension. For the next few weeks, they have the added benefit of being able to offer him an eighth year, something that would likely seem very appealing to a player that will turn 29 later this summer. This contract could very well take Gaudreau to the end of his career, and reward him very handsomely for his outstanding platform year.
But with Gaudreau especially, there have always been whispers of a return to the east coast. The New Jersey native played his college hockey at Boston College and a return to the U.S. always seemed inevitable, even if it was at the very end of his career. Now, with just a month left before he could listen to every team's pitch, that transition is certainly possible, if not likely.
This isn't a player who has made his intention to go to free agency clear though. Gaudreau told the Flames before the season started that he didn't want to discuss a contract during the year, and both sides followed his wishes. He's only ever spoken glowingly about the city and explicitly stated at his end-of-year press availability how much his wife loves it in Calgary.
So where will he be, when the dust settles on July 13? Will Gaudreau stay in Calgary and potentially become the highest-scoring Flame of all time (he is currently 486 points behind Jarome Iginla)? Or will he take his talents elsewhere, adding his talents to a program much closer to his family? Cast your vote below, and make sure to explain it in the comments.
Photo courtesy of USA Today Sports Images