As we get closer to the start of free agency, things are starting to pick up a little bit on the transactions front with several of those being among the top stories of the past seven days.
Driedger Undergoes Surgery: This was a tough season for Kraken netminder Chris Driedger as things didn't go as planned with his new team with the 28-year-old putting up a save percentage of just .899 in 27 games.  But he had a chance to finish up on a high note with Canada at the World Championship.  Unfortunately, that didn't happen as instead, Driedger tore his ACL in the Gold Medal Game and has undergone surgery that will keep him out between seven and nine months.  On the short end of that, he'd miss a little more than months but on the longer end, he could be out for half the season.  Fortunately for Seattle, they have a third-string option in Joey Daccord that has some NHL experience so they may not have to look outside the organization to fill Driedger's spot to start next season.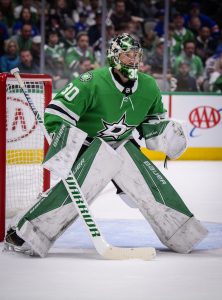 Bishop To Buffalo: Dallas decided to make a move to get out of the final season of Ben Bishop's contract, sending the veteran along with a seventh-round pick to Buffalo for future considerations.  The 35-year-old tried to come back this season but pulled the plug after one appearance in the minors, instead announcing the end of his playing career.  The Stars free up a contract slot with the move and also, for now at least, reduces the potential for a carryover bonus penalty as teams in LTIR all season don't accrue any cap space so any achieved bonuses that put a team past the Upper Limit roll over to the following season.  Dallas will be in that situation next season thanks to Bishop being on LTIR this year.  Meanwhile, the Sabres don't have much to lose with this pick as they're well under the cap and pick up an extra draft pick for doing the Stars the favor.
Two Years For Roslovic: It has been an interesting season and a half for Jack Roslovic in Columbus.  After impressing following the trade from Winnipeg, he struggled for a good chunk of this year before finishing on a high note with 19 points over the final six weeks of the campaign.  After taking a bridge deal upon being acquired by the Blue Jackets, the two sides effectively agreed on another one as the 25-year-old signed a two-year, $8MM contract.  The deal buys out Roslovic's two remaining RFA seasons, gives him a nice raise on the $1.838MM AAV from last season, and will give him the opportunity to hit the open market in 2024 in the prime of his career.
Gurianov Gets One: While qualifying offers aren't issued for several more weeks, Denis Gurianov decided to take his early, agreeing on a one-year, $2.9MM deal.  The 25-year-old looked to have a breakout year two goals ago when he reached the 20-goal mark but his output has dipped since then, notching just 23 goals over the last two seasons combined in 128 games.  He was a possible non-tender candidate as a result but this will give Gurianov one more chance to make his mark with the hopes that a new coaching staff will help unlock his offensive potential on a more consistent basis.
Cassidy Fired: There's a late entrant into the coaching shuffle this summer as the Bruins decided to part ways with Bruce Cassidy.  Boston had plenty of regular season success after Cassidy took over partway through the 2016-17 season with the team posting a .672 points percentage in 399 contests.  However, things weren't as good in the playoffs with the Bruins being a game below .500 in 37 games.  Cassidy's recent track record has made him a hot commodity as he is believed to have spoken with several teams as there are now seven confirmed openings around the league with two others (Edmonton and Florida) with decisions to make on their interim bench bosses.
Photo courtesy of USA Today Sports Images.