The Columbus Blue Jackets have signed Jack Roslovic to a two-year, $8MM contract extension, avoiding restricted free agency. The young forward will carry a cap hit of $4MM through the 2023-24 season, after which he will become an unrestricted free agent at the age of 27. Blue Jackets general manager Jarmo Kekalainen released the following statement:
Jack is an offensively gifted player with great speed and vision who has increased his production each season during his NHL career. He has made great strides in his all-around game, especially during this past season, and we are very pleased that he will continue to be an important part of our team as we move forward.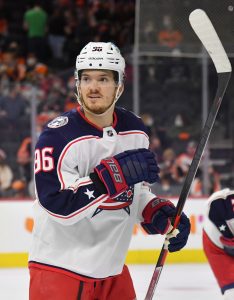 Roslovic, 25, hasn't quite become the first-line center that some hoped he could be on draft day but did set new career-highs with 22 goals and 45 points this season. Doing that amount of damage with barely over 14 minutes a night is a pretty impressive feat, though he did receive heavy offensive deployment from the Blue Jackets coaching staff to get there.
Still, there is even more upside yet to unlock in the talented center, and this contract brings very little risk on the Blue Jackets' end. The team had some cap space to play with even considering Patrik Laine's upcoming deal, and a $4MM cap hit will be easily moved if they aren't competitive by the time the deal is set to expire. It's perhaps not ideal to be walking him directly to unrestricted free agency but Columbus is focused on the young core and will need to pay Cole Sillinger and Kent Johnson in the same summer.
The short term allows for lots of flexibility down the road, and some earning potential for Roslovic if his offensive output continues to improve. Should he hit the open market at 27 with a few 20+ goal seasons under his belt, there will be many teams clamoring to add him on a long-term deal. Columbus is giving themselves a way to cash in at that point if the right deal is there, or work out an extension if the group is competitive at that point.
Notably, this contract is going to be brought up in other RFA negotiations this summer around the league. There are many other players who have similar production to Roslovic, whose previous high was just 12 goals, and likely wouldn't have normally been looking for a $4MM hit. Nicolas Roy, for instance, had six fewer points for the Vegas Golden Knights and is also a 25-year-old pending RFA. Pavel Zacha with the New Jersey Devils had 36 points in 70 games and has a longer history in the league, despite being the same age.
Other wingers like Denis Gurianov, Kasperi Kapanen, and Lawson Crouse have all had their own 20-goal seasons at some point, and are in the same age group. Roslovic's contract could be a template for a safe extension that gets them to the open market or ammunition for the player to try and get a longer-term deal.
Photo courtesy of USA Today Sports Images