The Boston Bruins have announced tonight that they have relieved Bruce Cassidy of his duties as head coach. Cassidy had been the Bruins' head coach since 2017-18 and led the team to the playoffs in each season he coached, including a run to Game Seven of the Stanley Cup Final in 2019. Bruins GM Don Sweeney issued the following statement as part of the announcement:
Today I informed Bruce Cassidy that I was making a head coaching change. After 14 years working with Bruce, this was an extremely difficult decision. I want to thank and acknowledge Bruce for all his work and success with the Bruins organization. His head coaching record for the Bruins is impressive, and we are appreciative of Bruce both professionally and personally. After taking some time to fully digest everything, I felt that the direction of our team for both this season and beyond would benefit from a new voice. I want to wish Bruce, Julie, Shannon and Cole much success as a family and with their future opportunities.
This move is a genuinely surprising one, although there have been some hints of simmering unhappiness in the Bruins' organization that may not have been seen by observers outside of the Boston market. The Athletic's Fluto Shinzawa covered the disconnect on offensive philosophy between Cassidy and Sweeney, and further reported that the team's management had turned up the heat on Cassidy. While at the time some may have looked at Shinzawa's reports and seen the normal, expected reaction of a team reeling from a difficult playoff exit and not any indication of any looming changes, it's now clear that his work was foreshadowing the major change that was just announced.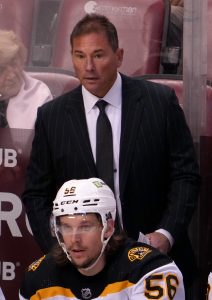 For some, there is a sense of great confusion regarding this firing, and such feelings are definitely reasonable. Cassidy's ability as one of the league's top coaches in not up for debate. He led a Bruins team that had stagnated near the end of former coach Claude Julien's tenure back to the top of the NHL's pecking order, coming within a single win of capturing the Stanley Cup in 2019. Cassidy took the reigns of a team ready to compete and navigated the challenges of managing a team with such established, veteran stars in order to deliver competitive, playoff hockey year after year.
Cassidy finishes his Bruins tenure with a 245-108 record in the regular season and a 36-37 record in the playoffs. Cassidy had one year remaining on his contract, per TSN's Chris Johnston.
With this firing, the Bruins enter one of the most competitive coaching markets in recent memory. As part of their announcement, the Bruins stated that they would be beginning their coaching search "immediately," and that Sweeney would be running the search process. Fellow contending teams such as the Vegas Golden Knights and Dallas Stars are among the clubs in search of a new coach, and the number of teams the Bruins will be competing with for any desired candidate is six. It's still too early to know exactly which direction the Bruins will go with their next head coach, but seeing as the team still intends to compete next season with their core of Brad Marchand, David Pastrnak, Charlie McAvoy, and Patrice Bergeron (should he opt to re-sign instead of retire) it's easy to connect them with the veteran coaches already on the market such as Barry Trotz or Paul Maurice.
For Cassidy, this development is definitely an unfortunate one, of course, but also one that could represent a major opportunity. Cassidy immediately joins Trotz as one of the top names on the coaching market, and he is in a position to join another team at a time when his stock as a coach is sky-high. The 2020 Jack Adams Award winner will definitely have a multitude of suitors this offseason and could even choose to wait until the next cycle if a break is what he desires. As previously mentioned, Cassidy has a year remaining on his contract so, financially speaking, there is no rush for him to accept a new job.
There is a sentiment among some that Cassidy's firing is proof of his role as the "fall guy" for the Bruins' front office in the face of the team's inability to win a second Stanley Cup since 2011. Ty Anderson of The Sports Hub detailed that line of thinking, stating that the Bruins' problems lay more in their personnel than their coaching. With Cassidy now fired, the blame for any struggles the Bruins face from this point forward will now be more easily targeted at the team's front office. Sweeney and the rest of the Bruins' brass seemingly have the full faith of ownership, but with Cassidy gone the heat they face gets turned up.
With a new coach needed and their captain out of a contract, this summer could be one of major changes for the Bruins' roster and should be one of major consequence for what remains of this era of Bruins hockey.