May 3: Vegas Golden Knights general manager Kelly McCrimmon announced today that Lehner will undergo shoulder surgery tomorrow. There's no established timeline for his return.
April 25: The original reports from Emily Kaplan of ESPN and Jesse Granger of The Athletic have proven true, finally. The Vegas Golden Knights today announced that Robin Lehner will indeed undergo season-ending shoulder surgery. The team released the following statement:
Robin has done his best to battle through this injury he sustained February 9, and we were hopeful that rest and rehab would allow him to complete the season.

He initially rehabbed and was able to return to play March 1. At times rest and rehab were effective, but ultimately Robin, in consultation with team medical staff, determined that this is the best course of action.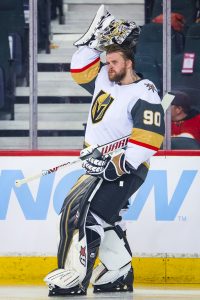 Kaplan tweets that Lehner told the Golden Knights last Thursday that he was going to get surgery, and that the team doctor agreed to that course of action on the weekend. The team had him serve as backup on Sunday because of, according to Kaplan's sources, cap implications.
Vegas has recalled Jiri Patera from the Henderson Silver Knights.
Lehner, 30, had a 19-12-1 record and posted a .910 save percentage in the 33 games before February 9, when the team states he suffered the injury. In the 11 games since (including that game against the Calgary Flames), he went 4-5-1 with an .898. During that time he suffered another injury, this time believed to be a lower-body issue, which kept him out for an additional few weeks.
It's been a nightmare season, and one that may end up not resulting in the Golden Knights going to the playoffs at all. The team could still technically qualify, though it will be difficult as the Dallas Stars remain three points ahead of them. Tomorrow night when the two teams go head to head could very well eliminate Vegas for the first time since their inception, and cause a ripple of negative effects on the organization.
Most notable is the first-round draft pick that the team gave up to acquire Jack Eichel earlier in the year. While it is top-10 protected for this year, if it were to transfer to 2023 it does not have any protection. Missing the playoffs again next season still doesn't seem likely for a team with so much firepower, but as the front office continues to make huge salary cap commitments, there is some uncertainty over how long the Golden Knights can stay competitive.
For Lehner specifically, major surgery will certainly complicate his own future. The 30-year-old goaltender is signed through the 2024-25 season and carries a $5MM cap hit, but the Golden Knights have proven that they hold no loyalty to a player if he isn't providing them with what they believe is the best on-ice performance. With a no-trade clause that can only block deals to eight teams, there isn't a lot Lehner could do if the team was looking at another switch in goal.
On the season, he'll finish with a .907 save percentage through 44 appearances, his lowest mark since the 2014-15 season when he was still with the Ottawa Senators. The two-time Jennings Trophy winner will also likely face a long rehab, though no timeline on his recovery has been released at this point.
Photo courtesy of USA Today Sports Images