The Carolina Hurricanes have been one of the NHL's best teams over the past several seasons, and a major reason for that success has been their depth down the middle. The team has Sebastian Aho, one of the best centers in hockey, and Jordan Staal, who is in his tenth season with the club. In addition to those two, the team has had Vincent Trocheck since a February 2020 trade with Florida, but they may not have him for much longer. Trocheck, 28, is set to be an unrestricted free agent for the first time in his career, as the six-year, $4.75MM AAV contract he signed as a 23-year-old Panther is set to expire at the end of this season. With the Hurricanes having extended offseason addition Jesperi Kotkaniemi, getting him under contract until 2029-30 at $4.82MM against the cap, it looks as though Trocheck may be forced to join the third team of his career if he wants to maximize his earnings this summer.
That is not his preference, though. In an interview with Matt Larkin of Daily Faceoff, Trocheck reiterated his desire to stay in Carolina, saying:
That's still the goal, to be here. I love being a Hurricane and having a chance to win every year is where you want to be. So hopefully we can figure something out.
As previously mentioned, though, staying in Carolina may not make financial sense for both the team and the player. The team has committed nearly $20MM for next season to the trio of Staal, Aho, and Kotkaniemi, and with other significant contracts on the books already, things are getting tight. Additionally, Vezina Trophy hopeful Frederik Andersen will need an extension after next season, meaning with all that in mind, Trocheck may be the player who becomes the odd man out this summer.
It may even be probable. With the extension to Tomas Hertl, the offseason's center market is looking a bit thin. Beyond breakout Avalanche star Nazem Kadri, there aren't many players available on this summer's market who can play center and have a scoring pedigree. It is expected that franchise icons Evgeni Malkin and Patrice Bergeron will re-up with the only NHL clubs they have ever known, and Florida's Claude Giroux has been more of a winger than a center in recent years. That leaves Trocheck and the Rangers' Ryan Strome as the only two centers set to hit the market this offseason who have even crossed the 35-point mark in 2021-22, meaning the market for Trocheck this summer should be very player-friendly.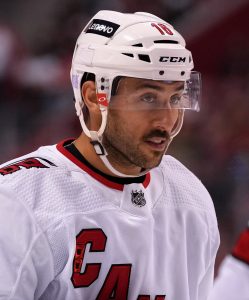 Trocheck has had a nice season in Carolina, with 20 goals and 48 points in 79 games. This is Trocheck's fourth season where he has reached the 20-goal plateau, and he potted 17 in only 47 games last season. Trocheck also has flashed even higher levels of offensive upside, as he hit 31 goals and 75 points in the 2017-18 season with the Panthers. In addition to his offense, Trocheck has a decently well-rounded defensive game, and he ranks third among Hurricanes forwards in shorthanded time-on-ice per game. So, in short, Trocheck is a two-way center that can help a team defensively and add 20 goals and 50 points as a baseline level of offensive production. Players like that get paid on the open market, and with the aforementioned dearth of quality centers in this offseason's free-agent class, Trocheck is lined up to get a major contract.
So even if his preference is to remain in Carolina, money is typically the ultimate deciding factor for most players, (and rightfully so) meaning Trocheck's time as a Hurricane is likely coming to an end. But that leaves a question to be considered: with comparable centers like Kevin Hayes crossing the $7MM AAV threshold in their long-term free-agent contracts, is $7MM+ per year on a long-term contract an appropriate price to pay for a player like Trocheck, someone who is an accomplished all-around center but far from a superstar?
Photo courtesy of USA Today Sports Images