The Florida Panthers, or more specifically the Charlotte Checkers, will be holding Owen Tippett out of the lineup tonight according to Darren Dreger of TSN, as trade rumors continue to swirl. Tippett has been linked directly to the Philadelphia Flyers in the past and Dreger once again notes the speculation surrounding Claude Giroux.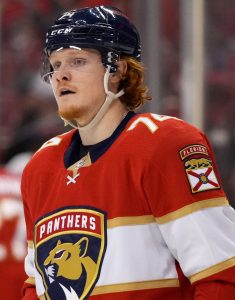 Tippett, 23, continues to be a dominant player at the AHL level, with points in 11 of his 12 games with the Checkers and eight in his last five appearances. That minor league success hasn't really translated to the NHL to this point though, with the young forward racking up just 14 goals and 33 points in 94 career games. Important to remember when considering those numbers though is the role that Tippett has played for the Panthers, rarely seeing anywhere close to top-six minutes given their glut of other talented options. In fact, in his 42 appearances this season he's broken the 15-minute mark just five times and averages 12:32 on the year.
There is reason to believe that Tippett can produce at a higher level if he's given the chance. A brilliant goal scorer in the OHL, he was picked tenth overall in 2017. Because of his situation so far, there is actually an interesting opportunity for any acquiring team. Tippett will be a restricted free agent this summer but is still not arbitration-eligible. With his depressed NHL statistics, he won't be able to negotiate much of a raise over his entry-level salary and perhaps would even be open to a multi-year bridge deal at a relatively low cost. If someone believes that he can take a big step forward quickly–and a team like the Flyers is known to want players that can make an impact right away as they try to avoid a rebuild–he could provide quite a bit of excess value.
An injury at this point would certainly throw a wrench in those plans, meaning Tippett will likely be held out through Monday or until a trade is completed. Giroux meanwhile is set to play in his 1,000th game with the Flyers tonight, a threshold that needed to happen before any deal was possible.
Photo courtesy of USA Today Sports Images