In most trade speculation about the Dallas Stars, the big names being thrown around are John Klingberg and Braden Holtby. Both players are unlikely to be moved by Monday's deadline according to general manager Jim Nill, but there is another name on an expiring contract that has drawn at least some interest. Elliotte Friedman of Sportsnet writes in his latest 32 Thoughts column that the New York Rangers have shown interest in Alexander Radulov.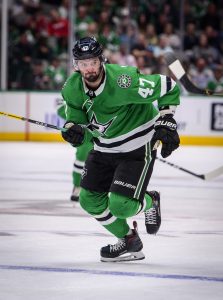 Whether that interest remains after the Rangers acquired Frank Vatrano from the Florida Panthers this week is unclear, though Radulov's name is an interesting one that hasn't been brought up much. The 35-year-old forward is on the final season of a five-year, $31.25MM contract he signed in 2017 and holds a 15-team no-trade clause. He's also been almost entirely irrelevant this season for the Stars, registering just three goals and 18 points in 52 games.
As team reporter Mike Heika tweets, Radulov is once again expected to play on the fourth line when the Stars take on his old team the Montreal Canadiens this evening. The veteran forward has been seeing less and less ice time as the season progresses, averaging just over 11 min since the start of February (16 games). That's a far cry from the player who was over 20 minutes a night in his first year with Dallas, one of the two consecutive 72-point campaigns he put up after arriving in Texas. Since that 2018-19 season though, he's appeared to be in a steep decline, and has just 22 goals and 64 points in the 123 games since.
Of course, what kind of return could Radulov even bring, given his steep cap hit? The Stars could retain up to 50 percent, though even at that number an acquiring team would likely need him to play more than fourth-line minutes. New York in particular does have a bit of an imbalance when it comes to wingers, with more talent on the left side than Radulov's natural right, but it's extremely unclear where he would fit into the regular lineup after Vatrano's addition.
Still, it's another name to be cognizant of as the deadline approaches and teams look to try to find any underutilized talent around the league. If Radulov could even bring a few weeks of his former self, he could help a playoff team add some punch to the bottom of their lineup.
Photo courtesy of USA Today Sports Images