In the spirit of the holiday season, PHR will take a look at what teams are thankful for as the season approaches the midway mark. There also might be a few things your team would like down the road. We'll examine what's gone well in the early going and what could improve as the season rolls on for the Vancouver Canucks.
What are the Canucks thankful for?
New leadership.
Quite frankly, former Canucks GM Jim Benning should have been fired a long time ago. After a stint with the Boston Bruins front office, Benning took over as general manager of the Canucks in 2014. After making it back to the playoffs in year one, Vancouver missed in five of the next six seasons, only making it to the postseason in the 2020 bubble.
Not only did they fail to have any substantive on-ice success, but they also routinely missed on high draft picks despite Benning earning a reputation as a good scout. Jake Virtanen (sixth overall 2014), and Olli Juolevi (5th overall 2016) were both huge whiffs for the organization, while second-round picks like Jonah Gadjovich, Kole Lind, and Jett Woo have also failed to make much of an impact at the NHL level to this point. Even with a team still quite far from contending for a Stanley Cup, the Canucks ranked 28th in Scott Wheeler's recent prospect pool rankings for The Athletic.
It's not that Jim Rutherford is guaranteed success in Vancouver, but fans have been clamoring for change longer than most bases. Just having a different voice is important after so much failure.
Who are the Canucks thankful for?
There have been a lot of astute hockey minds saying things like "Travis Green is a good coach, he'll land on his feet elsewhere" since the Canucks made a change behind the bench, but there was no doubt a new brand of coaching needed to be brought in. Boudreau has gone 8-2-1 since arriving in Vancouver, continuing his history of finding immediate success when he arrives in struggling markets.
Once again, it's not that there is a guarantee this will continue–in fact, it looks as though the new coach bump might already be wearing off–but there needed to be a new voice behind the bench. Notably, the veteran coach appears to have a positive impact on Brock Boeser, the team's struggling sniper. Five of his nine goals this season came in the six games leading into the holiday break, all under Boudreau.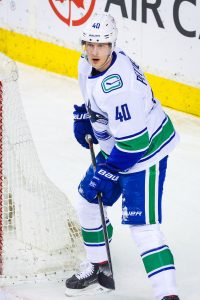 What would the Canucks be even more thankful for?
An Elias Pettersson sighting.
One of the most puzzling things to happen to the Canucks this season has been the disappearance of their young star. Pettersson, the 2019 Calder Trophy winner and a player who earned Hart Trophy votes in 2020, has looked completely lost at times. After scoring 153 points in his first 165 games in the NHL, Pettersson has just 17 in 36 this season, good for sixth on the Canucks' roster.
The team was never expected to really contend for a Stanley Cup this season, but without Pettersson playing to the level he once did, it will be difficult to even stay competitive in the Pacific Division. There are excuses that could be used–a long injury and a missed training camp in particular–but after signing a three-year, $22.05MM deal in October, Pettersson has to be better.
What should be on the Canucks' wish list?
Cap relief.
When Benning and his staff went out and acquired Conor Garland and Oliver Ekman-Larsson last summer, they ensured that the team would be capped out not only this season but moving forward as well. The Canucks have more than $71MM owed to just 15 players for 2022-23, not leaving much flexibility.
If Rutherford realizes that this group isn't going to get it done, biting the bullet on some tough trades would be the move at the deadline. Moving out Ekman-Larsson or Tyler Myers would probably be the best options, but names like Boeser, J.T. Miller, and even captain Bo Horvat will have to be discussed at some point. It's not that these are all players that can no longer contribute, but right now the Canucks are basically locked into this group, with free agent negotiations on the horizon and no real success to show for it.
Photo courtesy of USA Today Sports Images