In the spirit of the holiday season, PHR will take a look at what teams are thankful for as the season passes the one-quarter mark. There also might be a few things your team would like down the road. We'll examine what's gone well in the early going and what could improve as the season rolls on for the Philadelphia Flyers.
What are the Flyers thankful for?
Their new coach.
It's hard to gauge time with all the postponements, but the Flyers have only played eight games since firing Alain Vigneault on December 6. Since then, however, the Flyers have either gotten lucky or turned a corner, going 5-2-2 under interim coach Mike Yeo so far. The two regulation losses were their first two games under Yeo, a 7-5 loss to Colorado on December 6 and a 3-0 loss to New Jersey on December 8. Since then, they've yet to lose in regulation and have won by multiple goals in two of their five wins.
The defensive bleeding is starting to improve, albeit slowly. Philadelphia hasn't allowed more than three goals since that Colorado loss.
Better goaltending this season will help the Flyers in the long run, and under Yeo, it looks like the team is starting to turn a corner in front of Carter Hart and Martin Jones. If Ryan Ellis can stay healthy later in the season, he'll be a big help as well.
Who are the Flyers thankful for?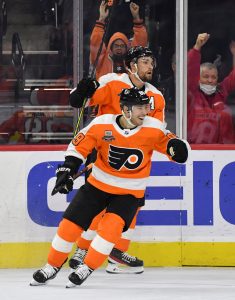 Not much was made of the Atkinson-for-Jakub Voracek swap this summer. It was a trade of ageing wingers who'd underperformed in recent years, and it allowed the Flyers to gain some salary cap flexibility for future moves. That trade's paid dividends for both teams, though, especially the Flyers. Atkinson holds the team lead with 12 goals in 31 games and has the best +/- rating on the team by far (+13).
He's on a 32-goal pace, which would be the third-highest total of his career. COVID hit right after his career-high 41-goal campaign in 2018-19, but he's now already hit his 12-goal mark in 2019-20 and is only three goals shy of his 2020-21 mark. The +/- mark is especially impressive for a team that's had the defensive struggles of Philadelphia. That +13 rating is already tied for the second-best in his career. It may be a stretch to say it's a career season for Atkinson given the 41-goal mark, but it's certainly one of his best.
What would the Flyers be even more thankful for?
Health and more production from Sean Couturier.
Philadelphia's defensive struggles this year were exacerbated by a somewhat unexpected lack of scoring. Couturier's still been as trustworthy as ever defensively, but after signing an eight-year, $62MM extension this offseason, he's got just six goals and 17 points through 29 games. It's not awful by any stretch, but he's been hovering around a point-per-game for the past few seasons and the dip is somewhat concerning.
It won't be happening anytime soon, though. Couturier was injured recently and team announced he's now out week-to-week with an upper-body injury.
What should be on the Flyers' Holiday Wish list?
A Rasmus Ristolainen deal at the trade deadline.
Philadelphia, barring a miracle, is extremely unlikely to make the playoffs. They are tied for ninth in the conference with the Bruins, but Boston has four games in hand on them. With other teams behind Philadelphia looking to make runs as well, it doesn't seem like they'll be able to pull away from the pack by the trade deadline.
The Flyers paid a pretty penny to acquire Ristolainen from Buffalo this offseason, but it just hasn't worked out. He's still struggled mightily in his own end, and he has just eight points in 29 games this year. The team needs cap space and assets, and shipping out Ristolainen in the last year of his deal would allow them to at least recoup some assets for the ill-advised acquisition.
Photo courtesy of USA Today Sports Images.