The Philadelphia Flyers have signed star center Sean Couturier to an eight-year contract extension that will start in the 2022-23 season. Couturier has one more season on his current deal and would have been an unrestricted free agent next summer. The new extension will carry an average annual value of $7.75MM and runs through 2029-30. Stephen Whyno of the Associated Press reports that it will include a full no-movement clause in the first seven years, and a Couturier will be required to submit a 10-team trade list in the final season. Flyers GM Chuck Fletcher released a statement on the deal:
We are excited to announce Sean's long term extension with the Flyers today. As one of the premier two-way centers in the NHL, Sean has the rare talent to shut down opposing team's top players while also contributing at a high offensive level. Throughout his 10 year career with the Flyers, he has proven to be the ultimate teammate. He carries an enormous presence inside our dressing room due to his preparation, determination and drive to win.
CapFriendly provides the full contract breakdown:
2022-23: $1.75MM salary + $6.0MM signing bonus
2023-24: $4.0MM salary + $5.0MM signing bonus
2024-25: $4.0MM salary + $5.0MM signing bonus
2025-26: $4.0MM salary + $5.0MM signing bonus
2026-27: $1.75MM salary + $6.0MM signing bonus
2027-28: $1.5MM salary + $5.0MM signing bonus
2028-29: $1.5MM salary + $5.0MM signing bonus
2029-30: $1.5MM salary + $5.0MM signing bonus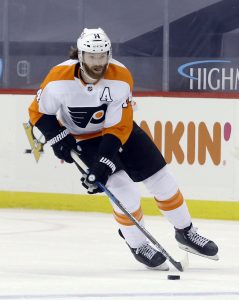 There's absolutely no doubt that Couturier is one of the Flyers' most important (if not the most important) players, and every day that passed was getting him closer to unrestricted free agency. Still, this is a huge commitment for the Philadelphia front office, given that he'll turn 30 just a few months into the first year of the extension.
Currently 28, Couturier is one of the most effective two-way centers in the entire league and took home the Selke Trophy as the league's best defensive player in 2020. He has received votes for the award in nine of ten seasons and has been a finalist in the past. When his offense took a huge step forward in 2017 it turned him from a strong checking forward to a true top-line center, capable of near point-per-game production. He has hit the 30+ goal mark twice, posted a career-high of 76 points in two seasons, and registered 41 points in 45 games this year. There are only a handful of players in the league who can impact the game as much as Couturier, given how effective he is in all three zones.
Still, while this deal may be a bargain in the next few years, it's hard to expect Couturier to keep up his level of play throughout. He's now signed for the entire decade and already has more than 700 NHL games under his belt playing a relatively physical style of hockey. There's no telling what his decline phase will look like, but a deal of this length could become an issue if his offensive production falters even a little bit.
That's a problem for the future though, as the Flyers try to capitalize on this core and compete for the Stanley Cup. The team went out and revamped the defensive group, bringing in Ryan Ellis, Rasmus Ristolainen and Keith Yandle this offseason, and swapped a pair of veteran forwards by sending Jakub Voracek to the Columbus Blue Jackets for Cam Atkinson. With Claude Giroux signed for just one more season, James Van Riemsdyk under contract for just two, the time is now for the Flyers to strike.
The $7.75MM cap hit ties him with young Andrei Svechnikov, who signed a deal with the Carolina Hurricanes earlier today, for the 49th highest in the league for 2022-23. He will likely be knocked a few spots down by other extensions and contracts, but that's likely a number that Couturier could have eclipsed on the open market, had he waited. That obviously wouldn't have come with the eight-year term though, something that likely gives him security through the end of his career.
Photo courtesy of USA Today Sports Images