2021 was certainly another eventful year, both on and off the rink.  Over the coming days, PHR will take a look back at the top stories from around the game on a month-by-month basis.  Next up is a look at July, an extremely busy month on the NHL calendar last year.
Saying Goodbye: Ryan Suter and Zach Parise had been franchise fixtures since joining the Wild back in 2012 on identical 13-year, $98MM contracts.  Given the front-loaded nature of the deals, it seemed unlikely that they'd be bought out but that was indeed the case as Minnesota will pay each player $6.67MM spread out over the next eight years to not play for them after they were bought out.  However, the charged cap hit will be much, much higher as the combined dead cap money goes up to over $12MM in 2022-23 and over $14MM in 2023-24 and 2024-25.  Suter had still been at a top-four level on the back end while Parise had struggled in 2020-21 but GM Bill Guerin decided a fresh start was needed; the consequences of that decision will be felt over the next few seasons.
Tragically, there was another goodbye in July as Blue Jackets goaltender Matiss Kivlenieks passed away at the age of 24 due to chest trauma due to a fireworks mortar blast at a holiday party in Columbus.  Teammate Elvis Merzlikins also attended the party and revealed at the memorial service that Kivlenieks saved many lives including his own at the time.  Merzlikins has paid tribute to his former teammate with a mask designed in his honor while his then-unborn son's middle name is Matiss.
Two Straight: The Lightning entered last season as one of the perceived Stanley Cup contenders for good reason.  Despite missing Nikita Kucherov for the entire season, they were still one of the top teams in the East and overcame a good challenge from the Islanders in the third round to make it to the Final for the second straight year.  From there, they took out Montreal in five games to become repeat champions.  Rookie Ross Colton had the Cup-winning goal in a 1-0 shutout in the final contest while Andrei Vasilevskiy was the Conn Smythe Trophy winner for the playoff MVP.
Free Agent Frenzy: There was plenty of activity in the opening day of free agency as usual with most of the top names coming off the board within the first few hours, further proving that removing the legal interview period did nothing to stop the discussions from happening.  The biggest deal of the day came from a team that hasn't been able to swim in the deep end of the UFA pool in quite some time as the Devils signed defenseman Dougie Hamilton to a seven-year, $63MM contract, giving them a top blueliner to build around as they continue to reshape their roster.  A full rundown of the hundreds of millions spent in the early hours of the market opening up can be found here.
Records Are Meant To Be Broken: Miro Heiskanen was shaping up to be an interesting restricted free agent case but it never got that far.  Instead, he and the Stars agreed to a max-term eight-year, $67.6MM contract, buying out four UFA years in the process.  The 22-year-old has been a franchise cornerstone and one of the top blueliners in the league in Dallas, making it understandable that he received the highest AAV either for a defenseman coming off his entry-level contract.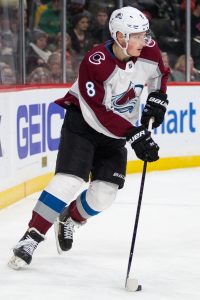 However, that record didn't last too long – only a week, in fact, as Colorado and Cale Makar worked out a six-year, $54MM contract, making his $9MM AAV the new benchmark for post-ELC rearguards.  Makar has quickly become one of the most dynamic defensemen in the league and was the Norris Trophy runner-up last season.  Unlike Heiskanen though, the Avalanche didn't gain a lot of team control for their money as with his first playoff appearance being exempted from counting towards service time, the six-year term only bought them a single extra season of control.
Seattle Has A Team: All eyes were on Seattle before the free agent frenzy began as they got to select their inaugural team in expansion.  While there were some prominent veterans made available – including Carey Price (Montreal), Vladimir Tarasenko (St. Louis), and Jakub Voracek (Philadelphia) – GM Ron Francis instead opted for a more modest roster, one that barely met the minimum spending threshold, allowing them to have some cap flexibility and spend in free agency.  The early results haven't been great as they're near the bottom of the Western Conference but that's usually the case for expansion teams with Vegas being a significant exception back in 2017-18.
The Eichel Saga Continues: Frustrated with the fact that Jack Eichel hadn't been traded yet, his now-former agents released a statement saying that the "process is not working".  Buffalo had hoped a rehab approach would work for Eichel's neck injury but that didn't happen and the team still wasn't relenting on his desired surgery.  It's likely the statement was intended to help move the trade process along but that didn't exactly happen although it provided more insight into how much of a divide there was between the two sides.
Big Draft Day Trades: Trade activity around the draft typically hasn't lived up to the hype in recent years but this last draft was an exception.  First, the Canucks surprised many by taking a big swing, acquiring defenseman Oliver Ekman-Larsson (with 12% salary retention) and winger Conor Garland from Arizona for a package headlined by the ninth-overall pick (Dylan Guenther) and several salary dumps to make the money work.  Garland has fit in quite well with his new squad so far while Ekman-Larsson hasn't rebounded to being the top-pairing player he was in his prime.  With five more years left on his deal, this swap carried some significant risk for now-former GM Jim Benning.
Meanwhile, while Seth Jones wouldn't extend with Columbus, he would with Chicago so the Blackhawks acquired the blueliner from the Blue Jackets in exchange for Adam Boqvist and a pair of first-round picks (including the one that turned into Kent Johnson); there was also a swap of second-rounders in the deal.  Adding to the high cost paid for Jones, Chicago quickly worked out an eight-year, $76MM contract extension, one that carries a full no-move clause and ensures he'll be the focal point of their back end for the better part of a decade.
Long-Term Extensions: A trio of eight-year extensions were also handed out.  Colorado narrowly avoided their captain Gabriel Landeskog hitting the open market as the two sides eventually reached a max-term contract that carries a cap hit of $7MM.  Tampa Bay wasted little time working out a max-term deal with center Brayden Point as mere hours after the calendar flipped to the start of the 2021-22 year (when extensions could be made official), they inked Brayden Point that will carry a $9.5MM AAV from 2022-23 through 2029-30.  Meanwhile, earlier in the month, Minnesota avoided having Joel Eriksson Ek go through arbitration, instead signing their top pivot to a deal that carries a $5.25MM price tag, a move that already looks like a team-friendly pact.
Photo courtesy of USA Today Sports Images.