As the holiday season approaches, PHR will take a look at what teams are thankful for as the season heads towards the one-quarter mark. There also might be a few things your team would like down the road. We'll examine what's gone well in the early going and what could improve as the season rolls on for the Chicago Blackhawks.
What are the Blackhawks most thankful for?
A fresh start.
The departures of former GM Stan Bowman and former head coach Jeremy Colliton have breathed some new life into an organization that, frankly, hasn't had a lot of it lately.  Interim bench boss Derek King has Chicago playing better with seven wins in their last ten games and while a playoff spot isn't likely, the team is now at least starting to show some upside which bodes well for down the road and in terms of improving trade value for those who may be gone before the trade deadline.  Meanwhile, interim GM Kyle Davidson has already shown he's willing to make a big change when he let Colliton go and he'll have the rest of the season to try to chart a new course for the franchise.  Either he gets the interim tag lifted or someone else comes in but either way, it's a fresh start.
Who are the Blackhawks most thankful for?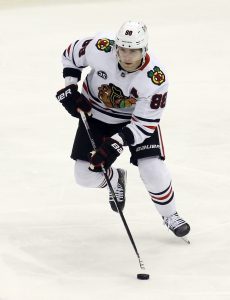 There haven't been many players to consistently produce a point per game average over an extended period of time but Kane has been one of them.  Over the last nine seasons before this one, he hit that mark eight times and the one he didn't, he came close.  In 2021-22, on a team that is near the bottom of the league in scoring, he's above that mark again.  It's hard to get a strong return on what was the richest deal for a winger in NHL history for a little while but Kane has provided that for Chicago in recent years even after their playoff dominance came to an end.  He's only seven months away from being eligible to sign a contract extension and whether it's Davidson or someone else running the ship, a new deal for Kane will be at the top of the priority list.
What would the Blackhawks be even more thankful for?
Getting any sort of production from their centers.
After missing all of last season due to Chronic Inflammatory Response Syndrome, Jonathan Toews has yet to score in 22 contests this season while recording just nine assists.  A good chunk of that can be attributed to the energy-sapping illness but as someone that plays as critical a role as he does, they do need him to light the lamp.  Kirby Dach hasn't been able to step up in his third NHL campaign although his three goals lead all Chicago middlemen.  Tyler Johnson has been hurt and will be out for a while yet, Dylan Strome can't crack the lineup, Ryan Carpenter, Henrik Borgstrom, and Reese Johnson have been quiet, and Jujhar Khaira is what he is, a low-scoring checker.  Combined, those eight players have totalled a grand total of eight goals on the season.  It's hard to win when the centers are producing that little.
What should be on the Blackhawks' Holiday Wish List?
It all depends on what direction the team goes.  If they're going to sell, picks and prospects for expiring deals such as Marc-Andre Fleury, Kevin Lankinen, and Calvin de Haan will be what Davidson wants to add.  If this hot streak continues for a little while longer and they can get themselves back into the mix, however, then the wish list would consist of adding a center that can drive the attack as well as some blueliners that can produce; only Seth Jones has scored more than once among their rearguards.
What will be on Davidson's mind either way is trying to create or preserve cap flexibility.  Alex DeBrincat is owed a $9MM qualifying offer this summer and will be a year away from UFA eligibility.  That will be a big ticket to add to a team that's already near $60MM in commitments to only 11 players for next season, per CapFriendly.  Whether they're buying or selling, some extra financial flexibility will also be near the top of their wish list in the coming months.
Photo courtesy of USA Today Sports Images.