Dallas Stars goaltender Ben Bishop held a press conference today to discuss the end of his career. After trying to rehab and recover from a knee injury that has bothered him for more than two years, Bishop played a single game in the AHL before throwing in the towel. He explained just what he was dealing with all this time and how it didn't allow him from continuing his career:
If I was a forward, I could be playing right now. But just with the butterfly, the torque you put on your knee, it just couldn't really get better. 

Last week when we drained it, there was still some flecks in the fluid which means there was some cartilage wearing away. With all that, I still wanted to go down and give it a try because I wanted one last try to make sure. I was hoping I could go down and everything would be OK. But obviously after the game, it blew up. In talking to the doctors, it doesn't make sense to just kind of be ripping your knee apart if you're not going to get back to playing.
Bishop will not technically retire, as his contract extends through the 2022-23 season. He's owed $3.5MM for this season and next, meaning he'll be just moved to long-term injured reserve for now. His playing days are over though, which means fans can look back and dissect an outstanding playing career that was unfortunately cut short.
There is a real question that arises when considering Bishop's excellent-but-limited NHL career. Should he be considered for the Hall of Fame?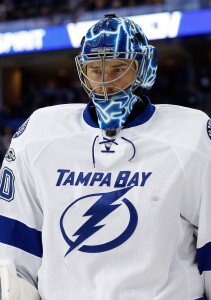 At first thought the easy answer may be no, given he never won a major award, never won the Stanley Cup, and was really only a full-time NHL player for seven years. But that seven-year stretch was also some of the best goaltending the league has ever seen, as fans of the Lightning and Stars will attest.
In 2013-14, his first full season with Tampa Bay, Bishop started 64 games for the Lightning, going 37-14-7 with a .924 save percentage. He finished third in Vezina Trophy voting, behind the winner Tuukka Rask (36-15-6, .930) and runner-up Semyon Varlamov (41-14-6, .927). He actually finished ahead of Rask in the Hart Trophy voting though (but behind Varlamov) because of the view of Tampa at the time. After all, they'd missed the playoffs each of the previous two seasons and were under the guidance of a rookie head coach–some guy named Jon Cooper.
Not a bad start for a goaltender that was already on his third team.
In 2014-15, he took a slight step back in terms of save percentage, posting a .916 for the Lightning. The team was a lot better though, as Bishop secured 40 wins in 62 appearances during the regular season. He then started another 25 games in the playoffs, helping the Lightning all the way to the Stanley Cup Final, where they would fall to the Chicago Blackhawks. Bishop's numbers that postseason? A .921 save percentage and playoff-leading three shutouts.
When 2015-16 rolled around there was no doubting his ability, and what would follow was an incredible goaltending season. In 61 appearances, Bishop went 35-21-4, posted a .926 save percentage, and league-leading 2.06 goals-against average. In the playoffs, he'd go 8-2 with a .939 save percentage and it looked like he was on his way to a potential Conn Smythe nomination, but ended up stretchered off the ice during the first period of game one of the Eastern Conference Finals. Young Andrei Vasilevskiy would play the next six games, ultimately losing in a heartbreaking game seven to the Pittsburgh Penguins. When the Vezina votes were tallied that year, Bishop would come close to another victory, but end up coming second to future teammate Braden Holtby's 48-9-7 record, despite the Washington netminder's worse numbers in other categories.
Injury had robbed him of a chance to further his legacy those playoffs, and the Vezina finish would be a sign of things to come. Bishop played just 39 games in 2016-17 as Vasilevskiy took over in Tampa Bay, forcing the Lightning to find a trade partner. Bishop was shipped to the Los Angeles Kings, where he served as a backup to Jonathan Quick down the stretch. He'd play just seven games with the Kings before an offseason trade and extension brought him to the Dallas Stars.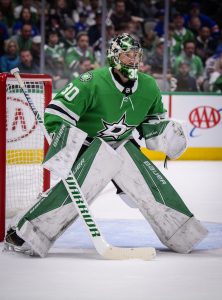 It's in Dallas where perhaps his most compelling case for the Hall of Fame took place. In his first year, he was a strong starter for the Stars, putting up a 26-17-5 record with a .916 save percentage. It's that 2018-19 season that could have changed his legacy though, had voters felt stronger about his case over that of his former protege. Andrei Vasilevskiy took home the Vezina as the Lightning posted a historic 62-16-4 record, but Bishop had outpaced him in nearly every goaltending metric. In fact, since they started tracking shot data, Bishop's 2018-19 .934 save percentage is the fourth-best in history among goaltenders who appeared in at least 41 games. He'd finish second in the voting, a finalist for the third time in his career.
Overall, Bishop ranks 78th all-time in wins by a goaltender with 222. He's even further down that list in terms of games played. His career was extremely short, there's no getting around that. But it was also outstanding. His .921 career save percentage puts him fifth, behind only Dominik Hasek, Johnny Bower, Rask, and Ken Dryden. Three of those names are in the Hall of Fame, the fourth likely will be one day.
So is Bishop a candidate for the Hall of Fame? Or is he just another member of the Hall of Very Good, with a career cut short by injury, overlooked by voters, and ultimately, unsuccessful in reaching the pinnacle of the sport–the Stanley Cup.
[Mobile users click here to vote!]