Topics in this edition of the PHR Mailbag include Mike Sullivan's candidacy for the Jack Adams award, future scoring projections, an intriguing trade target for the Bruins, discussing the struggles of several Canadian teams, and league ownership.  If your question doesn't appear here, check back in Monday's mailbag.
Rayno15: Why is Mike Sullivan not in the running for Coach of the Year?
Who says he isn't?  It's an award that's voted on at the end of the season, not just past the one-quarter mark.  The end result in the standings often dictates who is and isn't a finalist for this award and in mid-December, it's way too early to set that.
To be honest, I think Sullivan could be a viable contender depending on how things play out.  Pittsburgh has been hit hard with injuries this season with offensive cornerstones Sidney Crosby, Evgeni Malkin, Jake Guentzel, and Bryan Rust all having missed or are currently missing significant time while most of their back end has missed a handful of games as well.  To be hanging around the playoff mix in spite of all of that is certainly impressive.
But can they stay there?  It's one thing to be in the mix in December and another to be playing in May when the playoffs get underway this season.  Where they finish will determine whether or not Sullivan is a viable candidate for the award.  If they can get into the playoffs in spite of their injury trouble, there's a good chance he'll be on quite a few Jack Adams ballots.
The Duke: Dear PHRM Crystal Ball, As you know by now, I'm always looking to be one step ahead in my 12-team Keeper League, ergo I pose these questions:
Of the following, please rank and project which has the quicker/brighter scoring future, with goals ranked ahead of assists: Matt Beniers, Adam Beckman, Cole Perfetti & Jack Dugan.
Same as above for Rasmus Sandin and Calen Addison.
1) In terms of a quicker future, I don't think you're going to see any of these four get substantial NHL action this season.  Perhaps Beniers at the end of the year will see time but there's no short-term impact coming.  Next season, I'd expect both Beniers and Perfetti to be regulars and likely in a top-six role.  The fact that Dugan didn't get a look last season was curious and injuries haven't helped this year.  But he turns 24 in March so the clock is ticking fast on his NHL upside.  Beckman's skating is a concern for me.  The rest of his skillset is promising but overcoming skating has been easier said than done.
That puts Beniers and Perfetti in a class of their own for me as the other two may be more complementary players than high-impact ones.  I'll rank them by a ballpark guess of what a typical season for them could be in terms of goals and points once they're established in the league.
Beniers: 30/80
Perfetti: 25/60
Dugan: 15/40
Beckman: 15/35
2) Obviously, Sandin is the quicker option considering that he has basically been a regular this season with the Maple Leafs while Addison has been up and down with Minnesota.  Barring injuries, Addison probably isn't a regular down the stretch while Sandin should stay in Toronto's lineup.  So for short-term help, Sandin is the better play.
I also think he's the higher-scoring option on a long-term basis.  Neither project to see substantial power play time with veterans locked up in front of them on the depth chart (Morgan Rielly and Jared Spurgeon) and both have top-four upside at five-on-five.  If I have to guess which one will be the higher-scoring option, I'll go with the team that has the better long-term offensive outlook and that's Toronto.  Minnesota's scoring more this season but is that sustainable with the cap-related cuts to the roster?  I'm not so sure on that one.  Nonetheless, their projections would be pretty close:
Sandin: 8/30
Addison: 6/25
I could see both of them having some years where they're over those thresholds but others where they're below so call that an average forecast.
SkidRowe: J.T. Miller to the Bruins. What would it take?
From a fit perspective, this would certainly be a good one for Boston.  He could slide into the number two center spot that they've been trying to find the right fit for all season long and plays an all-situations game that would really make their top six a real strong spot.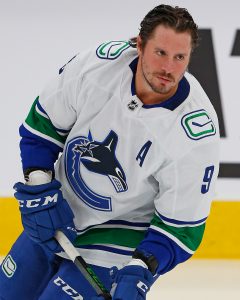 However, it's worth mentioning the cap situation before digging into a hypothetical trade.  Boston has just over $13MM in cap room for next season, per CapFriendly.  Adding Miller would knock that just under $8MM with a few roster spots to fill including re-signing Patrice Bergeron.  That would be a very tight squeeze, perhaps too tight to try to fill.  Accordingly, Boston would need to move out some money for next season to make a move justifiable; acquiring Miller only to have his contract price out Bergeron next summer wouldn't be ideal.
I'm sure you're thinking Jake DeBrusk would be part of such a package but I don't think his trade value is all that strong. Vancouver doesn't have the cap space to take multiple pricey players back and DeBrusk's deal is up next season and the Bruins should want to clear some 2022-23 money off the books here.  I don't think he's a good fit here as a result.  Given the state of the Canucks' defense, I could see someone like Matt Grzelcyk carrying some value and that would offset a good chunk of Miller's money.  A first-round pick is a given as well.
These deals also usually have a good prospect in there.  I could see Vancouver interim GM Jim Rutherford asking for John Beecher, a 2019 first-rounder if the trade market for Miller is robust enough to basically get a second first-rounder included and with the season he's having, that's a definite possibility if he's made available.  I could see Boston GM Don Sweeney countering with someone like Jack Studnicka.  Two-way point-per-game centers don't become available often and while Miller would be a great fit for Boston, he'd be a great fit for many other teams as well.  The price is going to sting as a result, especially with him on a below-market contract for another year.  Either way, this is a move that probably comes closer to the trade deadline as right now, the Canucks are still trying to get back into the playoff hunt.
pawtucket: How does one put out the Canadian tire fires that are the Canucks, Canadiens, Sens, and even recently the Jets?
Vancouver: They've made two big swings quickly with Bruce Boudreau and Rutherford coming in as win-now people.  From an ownership perspective, they're hoping Boudreau can turn things around and the early returns are good.  Their defense still needs improvement although getting one with next to no cap space will be a challenge.  They could still sneak into the playoffs and while that's not a great accomplishment, this is a win-now roster and they have to get to the postseason to see if this core group can get something done.  A bit of patience will be needed as Boudreau makes his mark.
Montreal: Sometimes, it's just not your year.  The Canadiens are beyond battered due to injuries and have already set a franchise record for the most games played in a calendar year at 106 (and they have nine more before the month is out).  I don't think they get out of this funk this season and they will embark on some sort of rebuild/reset by the trade deadline with a coaching change as soon as the offseason to see if a different approach can spark the players that are still around.
Ottawa: I thought they'd be better this season.  Not necessarily a playoff team but not a lottery contender either, however, injuries have hurt them as well.  For now, it's ride it out with some prospects getting a longer look but for the offseason, they need to do a better job of bringing in impactful buffer veterans that can shelter some of their younger players instead of just taking up spots at the back of the roster.  That would help move them from the back of the standings towards the middle where they'll be battling for a Wild Card spot and although that's not too exciting, it's a step they need to take; teams rarely go from pretender to contender all at once.
Winnipeg: I don't think there's much they really can do.  They're in a money in, money out situation so the only card they have to play is a coaching change and I don't think that's warranted at this time.  As I mentioned in last week's mailbag, I think they'll be fine by the end of the season.
blueavenger77: Has the NHL ever had a publicly owned franchise similar to the NFL's Green Bay Packers? If not, do NHL rules prohibit a publicly held non-profit corporation from owning a team? I ask the question because it seems to me that many NHL franchises would have a better chance of stability and success with a different ownership structure.
There isn't anything quite like Green Bay's public ownership structure in the NHL with the closest thing to any type of public ownership being able to buy shares in the group that owns the team such as the Rangers and Madison Square Garden Entertainment.  There's nothing that I can see in the NHL Constitution that prohibits such an ownership structure although there is a note that says the Board of Governors can change the 'membership' criteria from time to time which, I suppose, could allow them to block such an attempt if they so desired.
Photo courtesy of USA Today Sports Images.