Topics in this edition of the PHR Mailbag include the tough starts for the Flyers and Jets, Evander Kane's situation, trade candidates closer to the deadline, and the television deal in the United States.  If your question doesn't appear here, watch for it in next weekend's mailbag.
BlackAce57: It seems like the most consistent part of the Flyers the last three to five years has been their inconsistency. With the injuries to older big salary players and the young guns still not stepping up to what was expected, will this just be another season of mediocrity?
DarkSide830: What should the Flyers do? Is sacking AV and seeing if the new coach can spark the team a good start?
Being consistently inconsistent is certainly a hallmark of Philadelphia's hockey teams in recent years and enough coaches, players, and general managers to make it a baffling trait.  There has been enough turnover on all fronts that it shouldn't keep happening.  Making more big changes as they've now done certainly isn't going to guarantee that this stops being the case.
Injuries haven't helped their cause this season and yes, the minimal progression of some of their younger players like Joel Farabee, Travis Konecny, and Travis Sanheim has compounded that problem.  That said, I'm not willing to write off their playoff chances just yet; one of their hot streaks would get them right back in the race.  They're not good enough to contend and not bad enough to bottom out and if you're worried about them being in that mediocre zone, that's probably where they're going to land.
As for Vigneault, my original answer that was going to run Sunday night before Vancouver's shakeup occurred was that I thought GM Chuck Fletcher would wait it out until the end of the season and re-assess from there.  Clearly, that isn't the route they took given today's news.  I'm not sure that promoting Mike Yeo is going to spark them but he does have some experience in the top role and he's certainly a reasonable one to turn to.
In his recent press conference, Fletcher preached patience for his roster and I take him at his word.  They haven't had a healthy squad for most of the season so it's harder to evaluate the ceiling for this team and now the coaching change will make that a bit more challenging.  I think they're a bubble team and as long as they hang around the playoff mix, I don't think they'll do much.
As for what they should do, I'd let the season play out and if they fall out of the race a bit more, try to get something for some of their expiring contracts.  By then, hopefully they'll have had some more games at full strength to get a sense of what they can do at full strength.  They have a window where they can make some notable changes again next summer with Claude Giroux and several defenders heading for free agency.  That's a good spot to decide on pivoting towards a reset or whether some more core tinkering (and perhaps another coaching change if it's decided Yeo isn't the long-term option) will be enough to get them battling for top spot in the Metropolitan.  I'd lean towards the reset; we'll see eventually if they see it the same way.
trak2k: Why doesn't the NHL require mouth guards for forwards and defensemen?
Also is there any way for the Sharks to get rid of Evander Kane without owing him his full salary?
On the first one, most already do but there are always some holdouts, just like with helmets back in the day.  It's sort of a CBA issue as there is a joint committee between the league and NHLPA to determine what is and isn't needed.  Obviously, enough players are against it enough to the point where the NHLPA isn't going to want it mandatory and it's not vital enough of an issue for the league to try to push something through like they did with visors.  If players want to run the risk of losing some more teeth, it's their call to make.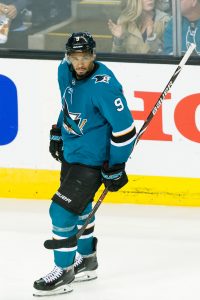 As for Kane, there are a couple of ways to move him without paying his full salary, at least in theory.  The first is a trade with retention which is allowable up to 50% of the contract, or $3.5MM of Kane's AAV; the same percentage is taken off his salary each year.  At this point, San Jose has indicated a willingness to go that route even though there are three years left after this one; they'd be paying a lot of money for him to not play there.  But with the behind the scenes stuff, will there be a taker at $3.5MM?  That's hardly a guarantee which is why some have wondered if a third team will need to get involved, retain more of the contract (while receiving some sort of compensation for that), and then move him on.  Kane will need to play well with the Barracuda for a while before any type of trade could take place.
Another option – and perhaps the likelier one at this point – is a buyout in the summer.  San Jose can pay two-thirds of his remaining salary (plus all of the signing bonus money) spread out over six years for him to leave.  Doing so would cost them $10MM in actual money and drop his AAV from $7MM to $3.667MM in 2022-23, $2.667MM in 2023-24, $4.667MM in 2024-25, and $1.667MM for three years after that.  The Sharks don't have the ability to void Kane's contract for his fake vaccine card – Forbes' Eric Macramalla explained the reasoning for that back in October – and while he could, in theory, agree to a contract termination, it's quite unlikely he'd do so given his bankruptcy situation.
Y2KAK: Who would you see as some of the biggest players traded at the trade deadline?
Barring a bunch of extensions, I think it could be a fun trade deadline for rentals.  On the wing, Phil Kessel seems like a lock to move.  With his low salary and high cap hit, it's one that Arizona may prefer to keep until closer to March 21.  I'm not sure Nashville is willing to lock up Filip Forsberg on a contract similar to the one that Gabriel Landeskog got to stay with the Avalanche and losing him for nothing but cap space wouldn't be a good return at all so I think he goes.
Can San Jose afford to keep Tomas Hertl?  Getting any sort of cap relief (however minimal) for Kane would help but the prospect of letting him walk without a trade return would hurt.  The Sharks don't have a deep farm system and he's the one piece that could help to replenish it.  It'd be hard to part with him if they're still in the playoff picture but it may be the better play long term.
I'm really curious to see what happens in Anaheim.  Defensemen Josh Manson and Hampus Lindholm plus winger Rickard Rakell are all probably in extend or trade situations.  Can interim GM Jeff Solomon work out new contracts for any of those three?  If not, while a shot at a playoff round would be nice from a financial standpoint, the smarter play would still be to sell.
Are all of these players going to move?  Probably not.  But I wouldn't be surprised if a few of these names are traded over the next few months.
FearTheWilson: What's with the Jets? Year after year they ice a highly talented team yet other than a trip to the WCF they haven't had much success. Is it finally time to part ways with Paul Maurice?
For the talent Winnipeg has, it has been a flawed roster over the years.  Their defense last year had to be in the mix for the bottom five in the league after they lost so much so fast with not enough brought in to replace them and it's hard to have a lot of playoff success with a bad back end.  Center depth – even when Bryan Little was healthy – always seemed to be an issue.  Their cap management hasn't been the greatest either which has resulted in a few too many league minimum players on their roster lately.
In terms of this season, I think they're going to be just fine.  Mark Scheifele will find another gear.  Blake Wheeler isn't going to be held without a goal forever; he'll get going again.  Connor Hellebuyck is still one of the top goalies in the league and their defense is a lot better this season.
How far they go will determine Maurice's fate as I think he's getting really close to a make-or-break situation.  Either they get through that ceiling and have a better playoff showing or it'll be time to ask if he's taken them as far as he can.  How they perform in May (and maybe June) will answer whether or not it's time for a change.
CPL: Seems there is less NHL on TV under the new contract. TNT games are at 10 pm EST and most ESPN games are on ESPN+/Hulu. Will that continue all year?
There certainly haven't been many national telecasts early on but that's not surprising.  TNT doesn't have the 'A' package so they don't have a lot of games and ESPN is trying to get people to subscribe to ESPN+ in the early going.  That will change a bit as the season progresses as in the second half when there will be a national game on ESPN most weeks as well as ABC picking up some Saturday games as well.  ESPN's full schedule can be found here.
As for TNT, their schedule is back-loaded as well.  Of their 50-game slate (which can be seen here), 40 still remain and there are a lot of double-headers in the second half of the season.  Yes, there are a lot of late games in there still but there will be more earlier games for them as well for you to look forward to.
Photo courtesy of USA Today Sports Images.