Ben Bishop's attempt to return to the crease for the Stars has come to an end.  The team announced this morning that they've recalled the netminder from his conditioning assignment with AHL Texas but that he will remain on Long-Term Injured Reserve (LTIR) due to his current knee injury.  Later in the day, Stars GM Jim Nill told Matthew DeFranks of the Dallas Morning News that Bishop's playing days are over:
"It's no secret, he has a degenerative knee injury, and he went down there, he wanted to be a big part of this. He wanted to do everything he could to get back. In the end, by going through the process, going down there and playing, he found out that it's the end of his career."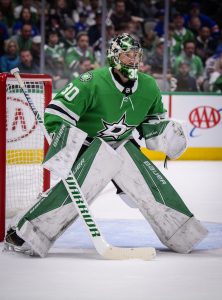 The 35-year-old missed all of last season due to the injury plus the first couple of months of 2021-22.  He made one appearance with Texas and it didn't go well as he allowed eight goals on 26 shots and clearly, something didn't go right with his knee with Bishop asking Dallas to end the conditioning loan early and shut him down.  The netminder is scheduled to speak to the media on Tuesday.
His playing days come to an end with 413 games played for five different teams. He was a three-time Vezina Trophy finalist and posted a 2.32 GAA along with a save percentage of .921 along with 33 shutouts.  He is signed through next season with a $4.916MM AAV and will remain on LTIR during that stretch.
From a cap perspective, this lessens their need to try to move veteran goaltender Anton Khudobin.  While he's clearly the odd man out in their goaltending trio at the moment, they would have needed to clear his contract off the books outright plus free up a bit more room in order to activate Bishop.  With that not happening anymore, they can now afford to be more patient in looking for the right return and will be able to take a player back instead of needing to clear his entire $3.33MM AAV off the books.  Dallas made Khudobin available earlier this month after Jake Oettinger came up from the minors and has been quite dominant in his first seven appearances, posting a 1.52 GAA with a .951 SV%.
Photo courtesy of USA Today Sports Images.