The Blackhawks have decided to make a change behind the bench as the team announced that head coach Jeremy Colliton along with assistants Tomas Mitell and Sheldon Brookbank have been relieved of their duties effective immediately.  Derek King, who had been coaching with AHL Rockford, will take over as interim head coach while Marc Crawford remains on as an assistant coach.  Anders Sorenson, meanwhile, replaces King as the head coach with the IceHogs.  Interim GM Kyle Davidson released the following statement:
Our on-ice goal remains the same: to build an elite system of hockey – and we have not delivered on that. The fact is our play and competitiveness must improve. Every game, every shift. Today's coaching changes are difficult, especially given the incredible personal connections Jeremy and others have made with our players in their development. We appreciate Jeremy's contributions to the organization over the last three seasons, and we wish him and his family the best.

We appreciate Derek's willingness to step in behind the bench as we embark on our search for our next permanent head coach. His NHL experience as a player and work with our younger players in Rockford over the last four years gives us great confidence in his ability to lead the Chicago Blackhawks in this interim role.
The dismissal comes three years to the day that Colliton took over from former head coach Joel Quenneville.  Over that stretch, Chicago hasn't really progressed.  The team posted a 87-92-26 record with the 36-year-old behind the bench with their only playoff appearance coming in 2019-20 where they lost in five games to Vegas in the first round.  That, of course, was the season that the postseason was expected in the summer bubble; their record wouldn't have been good enough to qualify otherwise.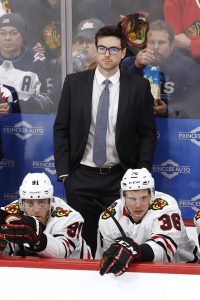 After a tough showing last season, now-former GM Stan Bowman tried to bolster the roster, adding Seth Jones and Jake McCabe to their back end, Marc-Andre Fleury between the pipes, and Tyler Johnson up front while welcoming Jonathan Toews back to the fold as well.  At a minimum, they were expected to be considerably better if not contending for a playoff spot.  Instead, they struggled mightily as Chicago has just a 1-9-2 record this season while they've allowed the most goals in the league with 47.  Clearly, something wasn't working and Davidson has decided that a fresh voice is needed to try to turn things around.
While King is quite familiar with several players on Chicago's roster having worked with them with the IceHogs since 2016-17 (including as the head coach since 2018-19), it will be his first coaching role at the NHL level of any kind.  That, coupled with the hole they've dug themselves in the standings, puts the 54-year-old in a tough situation, not entirely dissimilar to the one Colliton was in when he took over for Quenneville.
The fact that Davidson, himself only in the GM role on an interim basis, was given the green light to make this significant switch is noteworthy.  CEO Danny Wirtz indicated in a statement that Davidson has "our full confidence and autonomy to make hockey decisions" which certainly suggests he'll be given consideration for the full-time GM position.  In the meantime, Chicago will be conducting parallel searches with the team looking to determine Bowman's replacement and Davidson likely heading up the search for the full-time head coach.  It's not too often that a team has both an interim head coach and general manager but that's the situation that the Blackhawks now find themselves in moving forward.
ESPN's Emily Kaplan was the first to report that Colliton had been let go with King taking over.

Photo courtesy of USA Today Sports Images.