The New York Rangers have locked up the reigning Norris Trophy winner, signing Adam Fox to a seven-year extension. Fox was scheduled to become a restricted free agent at the end of the season. The deal will carry an average annual value of $9.5MM, according to Vince Z. Mercogliano of USA Today. The breakdown of the contract is as follows, per CapFriendly:
2022-23: $11.0MM salary
2023-24: $12.0MM salary
2024-25: $12.0MM salary
2025-26: $9.5MM salary (NMC)
2026-27: $1.0MM salary + $6.5MM SB (NMC)
2027-28: $1.0MM salary + $6.25MM SB (16-team no-trade list)
2028-29: $2.5MM salary + $4.75MM SB (16-team no-trade list)
Fox, 23, is one of just two players in NHL history to win the Norris Trophy in one of his first two seasons, joining Bobby Orr who also won it in his sophomore year. He's also just the fourth American defenseman to win the award, and has quickly become one of the faces of the NHL. Originally selected by the Calgary Flames in 2016, Fox was traded twice before ever signing his entry-level contract, which he eventually inked in 2019 after three years at Harvard.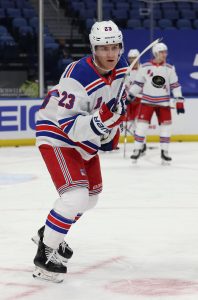 With his ELC coming to an end, it was obvious that a mega-deal was awaiting the young defenseman. This contract though, which buys out four years of unrestricted free agency, could actually be considered something of a discount for the Rangers. Fox will now be tied for the fourth-highest paid defenseman in the league in 2022-23, matching the extensions signed by Seth Jones and Charlie McAvoy earlier this summer. Zach Werenski, whose extension is for only six years but of which five are UFA seasons, slots in just ahead of that group with a $9.58MM cap hit moving forward. All of those are well behind Erik Karlsson ($11.5MM AAV) and Drew Doughty ($11MM AAV), who each signed their massive contracts ahead of full UFA status.
Even though this will become the largest contract ever given to a defenseman coming out of his entry-level deal, it's the seven-year length that is so important for the Rangers. Fox likely could have squeezed out more total salary by going with a shorter term, though obviously, that comes with the risk of injury or a decline in performance. Locking in at a very healthy number while also committing long-term to the franchise he always dreamed of playing for is the best option for both parties, though it still does leave some risk on the team side.
As with any deal of this length, there is a chance that Fox's play declines, but there's also the fact that New York has now committed a huge amount of their cap to just a handful of players. Artemi Panarin ($11.64MM AAV), Mika Zibanejad ($8.5MM AAV), and Jacob Trouba ($8.0MM AAV) are already signed to massive deals, meaning with Fox, a huge chunk of the payroll is already accounted for. In fact, the Rangers now have more than $70MM committed to next season already with a roster of just 15 players.
In a league with a salary cap, surplus value is king, and even with Fox's tremendous ability that has now been greatly reduced for the Rangers. They'll be paying him near what he's worth on the open market after this season, without being able to take advantage of any of his inexpensive seasons. That is of course unless they go on a deep run this year, something that isn't out of the question as they sit second in the Metropolitan Division.
Despite all the implications moving forward, getting a deal done now with Fox will certainly cause many Rangers fans to breathe a sigh of relief. He'll now be a part of the team for the best years of his career, pushing for more Norris Trophy votes and potentially even more team success.
Photo courtesy of USA Today Sports Images