The St. Louis Blues have brought in a ton of veteran experience in one day, signing James Neal and Michael Frolik to professional tryouts. Both players will join the Blues for training camp as they look for NHL contracts.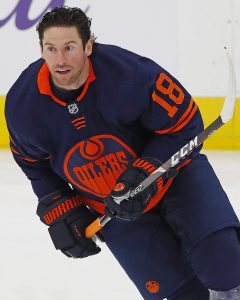 Neal, 34, was once one of the most consistent goal scorers in the league, posting seasons of at least 21 goals for the first ten years of his career. Things changed in 2018-19 when he signed a five-year, $28.75MM contract with the Calgary Flames, as suddenly his goal scoring dried up and he was pushed further and further down the lineup.
After two up and down years with the Edmonton Oilers, Neal's contract was bought out in July. He will still earn nearly $2MM from the Oilers in each of the next four years, meaning whatever he was to make on another NHL contract would just be a bonus. Though his overall play has obviously declined, Neal did actually score 24 goals in 84 games for the Oilers over those two seasons, 13 of them coming on the powerplay. If there's any of that juice left, perhaps the Blues could use him as a sort of specialist to replace some of the scoring that left in the offseason, or that which could still be moved out.
Frolik, 33, is a bit of a different story. He was never a pure goal scorer, far from it in fact as he hasn't recorded a 20-goal season since his sophomore year in 2009-10. Instead, he grew into a defensively capable support player who could be relied on for somewhere around 40 points a year. That offense disappeared over the last few years though and Frolik was limited almost entirely to the taxi squad for the Montreal Canadiens in 2020-21. In eight games, he failed to record a single point.
It's hard to believe he'll ever be an impact player again, but you could certainly do worse than Frolik if you're looking for depth to keep on hand in case of injury. Having a player like him in camp prepares for that situation, given the Blues don't have a huge number of young players pushing (or ready) for playing time.
As with any tryout agreement, it's also important to remember that this does not mean the Blues have exclusive rights to these players. Any NHL team can still sign them if they wish, meaning this is a showcase to the whole league.
Photo courtesy of USA Today Sports Images