You may have thought Andrew Ladd was retired. You wouldn't be alone, but you'd be wrong. The veteran forward confirmed exactly that to Eric Duhatschek of The Athletic, explaining that not only is he still active, but he's healthy and ready to contribute for the Arizona Coyotes this season. Ladd was acquired by the Coyotes in July as part of a salary dump by the New York Islanders, heading to the desert along with a package of draft picks in exchange for future considerations.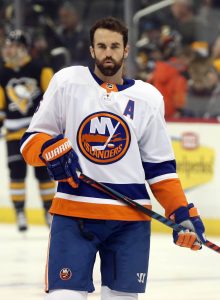 Even though he intends on playing, there still appears to be some doubt on how long his career can last. The conditions on the final pick included in that trade are that it only goes to Arizona if Ladd fails to play in a single professional game during the 2022-23 season or retires prior to that campaign. Yes, the 35-year-old is not only under contract for this season but also next, on the seven-year, $38.5MM deal he signed with the Islanders in 2016. He'll carry a $5.5MM cap hit through 2022-23, though his actual salary is a bit less than that.
It's hard to remember now, but Ladd was actually active during the 2019-20 season for the Islanders, playing 34 games for the Bridgeport Sound Tigers before a call-up in March. Unfortunately, that call-up was cut short when the league shut down due to the rising COVID-19 situation, but Ladd also dressed for a postseason game for the Islanders that summer. In 2020-21, he played just a single game for the Sound Tigers, but he's ready to resume his career and go for that 1,000 regular season games played mark that so few are able to achieve.
For the Coyotes, who are clearly in a rebuild, Ladd represents lots of positive opportunities. Not only did they receive draft picks to take on his contract, but it helps them get to the cap floor and the veteran forward can provide some leadership on the ice in what will likely be a difficult season. He joins fellow 35+ players like Loui Eriksson, Jay Beagle, Anton Stralman, and Carter Hutton on the roster, a group that will help guide the younger players in the roster along the way. Ladd, who served as captain with the Atlanta Thrashers/Winnipeg Jets before his time in New York, has always been considered a well-respected leader in the league. He'll have a brand new challenge this season as he looks to play out his final few years, reaching personal milestones along the way.
Photo courtesy of USA Today Sports Images