No, the New York Islanders have not officially announced any contract for Casey Cizikas, but details of the expected deal are starting to drip out. Earlier this month, Elliotte Friedman of Sportsnet heard that the Islanders had a six-year deal with Cizikas that would carry an average annual value of $2.5MM. The insider was clear that he couldn't confirm it though, something that has become par for the course in the Lou Lamoriello era.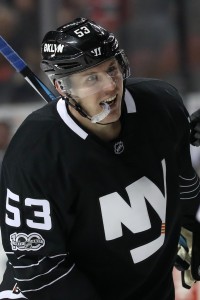 Today, Arthur Staple of The Athletic tweets that the report from Friedman appears to be accurate, he is also hearing that Cizikas has signed a six-year contract with an annual average value of around $2.5MM. Staple notes that the AAV could end up being slightly higher, something that won't be known until the contract is actually filed (and even then there's no guarantee from this Islanders front office).
Cizikas, 30, is pretty obviously not leaving the Islanders, given there would have been plenty of interest in him elsewhere on the open market. Though he is a true bottom-six option, likely unable to play any higher than that on a contending club, there's real value in what he brings to the ice every night. A strong defensive presence, a physical player, and a lynchpin of the Islanders' four-line structure, he represents a fixture of the team even scoring just a handful of points each season.
In 2020-21, he had seven goals and 14 points in 56 regular season games but was a huge part of the team's success in the playoffs. Cizikas won 142 of his 232 postseason faceoffs (61.2%), including a huge chunk of them in the defensive end. His presence frees up the team's more talented offensive players to do exactly that–play offense–while neutralizing the opposition's best as much as possible.
A six-year deal may seem like a lifetime for a player that resides near the bottom of the lineup, but it's likely the only way that the Islanders could keep his cap hit down. A $2.5MM salary will allow the team to spend money elsewhere, like on free agents Kyle Palmieri and Zach Parise, who are both expected to also have deals signed with the team but not announced.
Even if Cizikas' play falls off a cliff, there's not a ton of risk here for the Islanders. Nearly half of his expected cap hit could be buried in the minor leagues if necessary, leaving around $1.35MM each season on the books near the end of the deal. That obviously doesn't cripple a team's finances, but keeping his cap hit relatively low over the next few years will only help the Islanders in this window of Stanley Cup contention they have opened.
Photo courtesy of USA Today Sports Images