The Edmonton Oilers have placed James Neal on unconditional waivers today for the purpose of a buyout. He joins Martin Jones and Braden Holtby as three players bought out just as the first window expires. The Oilers will be on the hook for four seasons of cap penalties after the buyout is executed. The cap hits will be as follows:
2021-22: $1,916,667
2022-23: $1,916,667
2023-24: $1,916,667
2024-25: $1,916,667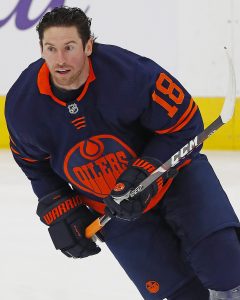 Neal, 33, was once one of the most consistent goal-scorers in the NHL, recording ten straight seasons of at least 21 goals to start his career. He even reached 19 during the 2019-20 season with Edmonton, though 12 of them were on the powerplay and 14 came in the first 26 games of the season. Neal managed just five goals and ten points in 29 games this year for the Oilers, essentially losing his roster spot to other, cheaper forwards. The buyout today only confirms that, as the team moves in another direction.
Edmonton decided not to buy out Mikko Koskinen, but the Neal transaction will open up nearly $4MM in cap space that they can use moving forward. With Adam Larsson on to Seattle, the team is in dire need of a right-shot defenseman to play in the top-four, along with several forwards to help take some of the pressure off Connor McDavid and Leon Draisaitl. Neal was no longer going to be able to fill that role, meaning he had to go one way or another.
Still, it's going to be tough looking down at a $1.9MM cap hit three years from now, when the cap still might not have increased at all and the Oilers are nearing the end of the contracts with their two stars. It was a necessary move to compete in the short-term, but having Neal on the books for four years is going to be painful.
Photo courtesy of USA Today Sports Images