The offseason has arrived with roughly half of the league missing the playoffs and several more having since been eliminated.  It's time to examine what those teams need to accomplish over the coming months.  Next up is a look at Dallas.
Just one season removed from an appearance in the Stanley Cup Final, the Stars wound up missing the playoffs altogether in 2020-21.  Injuries from their run in the bubble certainly contributed to that although they also had several veterans that underachieved.  Nevertheless, with Ben Bishop and Tyler Seguin returning next season, Dallas will be adding a pair of important pieces back to their lineup without needing to make many moves.  However, there are still some items for GM Jim Nill to accomplish this summer.
Add Scoring Winger
With Seguin, Jamie Benn, Joe Pavelski, Roope Hintz, and Radek Faksa, Dallas is pretty well set down the middle for next season.  At least one of them will have to move to the wing and while it may have seemed like it was going to be Benn, it doesn't appear as if he will be the one doing so.
The Stars also have Alexander Radulov and Jason Robertson and on paper, it's the makings of a pretty good offense.  However, despite the collection of talented threats, they're typically a middle of the pack team when it comes to scoring.  And despite paying Benn and Seguin more than $19MM combined, they're more of a score by committee type of team.
With Andrew Cogliano and Blake Comeau coming off the books, they have $5.65MM in money that could be put towards potentially adding another top-six piece on the wing that will score more than the nine goals those two veterans combined for this season.  (Some of that will also go to their top RFA who will be covered momentarily.)  That coupled with a return to health for Seguin and Radulov should be enough to push them from a team that's a bit below average offensively to one that's a bit above average.  That should be worth a few more wins in the standings.
Re-Sign Heiskanen
Generally, a 21-year-old defenseman that averages basically half a point per game, has positive possession stats, and logs nearly 25 minutes a night would be viewed as having a great season.  Yet for Miro Heiskanen, it almost felt like a bit of a letdown considering how dominant he was in the bubble.  By no means was it a bad season – he played quite well – but the expectations were understandably so high that he underachieved a little bit.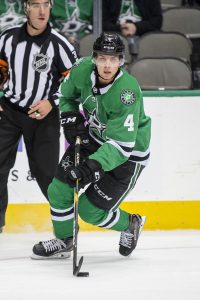 It will be interesting to see if that affects Heiskanen's contract talks as he enters restricted free agency for the first time (he does not have salary arbitration eligibility).  Heading into the year, it felt like he was on a path to earn a max-term eight-year extension that bought out four UFA seasons but still gave him a shot at reaching the open market while being in the prime of his career.
That could ultimately still happen but his step back offensively poses some questions.  Was his performance in the bubble an aberration?  Was his dip this season a one-off or a sign of things to come?  From Heiskanen's point of view, if he believes he can get back to improving on his numbers in his first couple of seasons, he may be better off waiting a year or two and opting for a bridge deal.  While it would take away some earning power when he reaches UFA eligibility, he'd certainly earn more signing a long-term deal then than he would now with this cap environment.
Meanwhile, Nill should still want to push for as long of a contract as possible.  Even with him not quite living up to the very lofty expectations, he is still undoubtedly their franchise blueliner for years to come so if the opportunity presents itself to lock him up, it's one they need to take.
If they wind up on a short-term pact instead, they'll have a bit more flexibility to add a short-term win now piece as well but that's basically only if they can get something done before the UFA period as it's harder to add closer to the start of training camp.  There is technically plenty of time to get a deal done between now and the start of next season but if they can get something done in the next six weeks, they'll be better off for it.
Extension Talks For Klingberg
On top of working on Heiskanen's file, the Stars will also be eligible to sign John Klingberg to an extension once the calendar flips to the 21-22 campaign in late July.  The 28-year-old has been a fixture on their back end for the past seven years and their gamble in handing him a seven-year contract after his rookie season has panned out better than they could have hoped.  Klingberg has given them plenty of production at a $4.25MM price tag which has wound up being well below market value.
He will be 30 when his next contract begins which presents Klingberg with a tough decision to make.  Locking into a long-term deal now (or next summer with the cap likely still at $81.5MM) isn't going to give him a higher AAV than if he waits.  However, if he opted for a higher-priced, short-term contract extension, he'd then be too old to command a contract close to the maximum term when that deal came to an end.  What's better for him, locking in long-term and potentially leaving a bit of money on the table or bank on a cap increase over the next few years and the possibility for a slightly better payday?
In terms of cap planning, it shouldn't be an issue for Dallas as Radulov and Pavelski ($13.25MM combined) will be coming off the books at the same time.  Those veterans shouldn't be able to command the same price tags they have now so some of the savings there will be able to go to Klingberg.  With him having another year left, this isn't something that has to get done but Nill has already indicated he'd like to work on this file this summer.
Add Defensive Upgrades
Between Heiskanen, Klingberg, and Esa Lindell, Dallas has a strong top half defensively.  It falls off fairly quickly after that, however.  Jamie Oleksiak is set to hit the open market this summer and after hovering around the 15 minute per game mark the previous two seasons, he logged over 20 minutes a night this year.  Some of that was him stepping up but some of that was also out of necessity.  Either way, he has positioned himself to earn more than the $2.1375MM he made this season so he'll need to be brought back or replaced.
In terms of depth, Andrej Sekera is more of a sixth option at this point while Joel Hanley should be seventh or eighth on the depth chart.  Sami Vatanen and Mark Pysyk don't seem likely to return so this could be an opportunity for Nill to upgrade the third pairing.  If they're unable to bring in another top-four defender, raising the floor of that third pair will be needed, especially if they want to hedge against injuries.  Thomas Harley could be in the mix at some point next year which would help but he'll need some more time in the minors first and shouldn't be counted on to make an immediate impact.
Photo courtesy of USA Today Sports Images.  Contract information courtesy of CapFriendly.