Free agency is now just a little more than a month away and many teams are already looking ahead to when it opens up.  There will be several prominent players set to hit the open market in late July while many teams have key restricted free agents to re-sign as well.  Coming off a disappointing playoff exit, the Carolina Hurricanes have an extremely eventful summer ahead of them.
Key Restricted Free Agents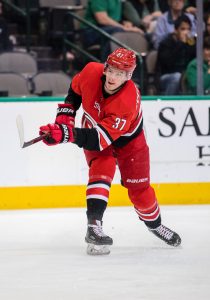 F Andrei Svechnikov – Despite taking a small step back this season offensively, Svechnikov was a large part of arguably the most successful regular season in Hurricanes history. While seeing the highest ice time of his career, Svechnikov dipped below the 20-goal mark for the first time in his career and was moved up and down the lineup under coach Rod Brind'Amour. It's not all bad for the young Russian winger, though, as he still managed a respectable 42 points in 55 contests. It was largely a better effort defensively this season for Svechnikov as well, still boosting his value as he earned those extra minutes. With proven 20-goal ability and 30- and even 40-goal potential, Svechnikov likely sees a huge raise on his entry-level contract in the neighborhood of $6MM. It's interesting to note that Svechnikov is not eligible for arbitration, meaning that negotiations will have to be resolved purely between the team and his agent.
F Warren Foegele – It was another solid season for the 25-year-old forward, who's settling nicely into a third-line scoring role with Carolina. After being drafted 67th overall in 2014, Foegele crossed the 200-game threshold with his final game of the 2020-21 season. Even through shortened seasons, Foegele's now scored between 10 and 15 goals in three straight campaigns with his ice time creeping up year by year. He's trusted in both zones by the coaching staff, and a longer-term, lower-dollar deal could end up benefitting both sides down the road.
G Alex Nedeljkovic – One of the two Calder Trophy finalists who's up for a new deal next season, Nedeljkovic was a pleasant surprise this season that helped stabilize the Carolina crease. Nedeljkovic sported a sparkling .932 save percentage to lead the league in that category, paired with a 15-5-3 record. Nedeljkovic continued his strong play into the playoffs, as his .920 mark was more than enough to keep the team competitive. He'll indisputably be given the inside track on the starters' job next season in Carolina, and will likely earn a short-term, Jordan Binnington-esque contract this offseason.
Other RFAs: F Yegor Korshkov, F Morgan Geekie, F Spencer Smallman, D Jake Bean, D Maxime Lajoie, G Jeremy Helvig
Key Unrestricted Free Agents
D Dougie Hamilton – While he didn't have the ideal contract year, Hamilton will be a huge commodity this offseason. A respectable offensive force on the blueline, Hamilton finished 2020-21 with his seventh straight 10-goal campaign. His ability in transition is huge in ensuring that his team is the one with the puck on their sticks, and his 6′ 6″ frame isn't exactly something to mess with. With a 62-point pace this season over 82 games, he continues to be one of the highest-scoring defenders in the league. The demand for UFA defensemen this season is high, and rumors of a sign-and-trade have swirled surrounding Hamilton. While it's seeming unlikely he'll return to Raleigh, there's always a chance.
G Petr Mrazek – Injuries largely forced Mrazek into a backup role this season. However, it didn't impact his play when he was in the net – he had arguably one of the best seasons of his career. His .923 save percentage was his highest as a Hurricane, and while his 12-game sample size is certainly a prohibiting factor, it only reinforces Mrazek's reputation as one of the best tandem netminders in the league. With Nedeljkovic assuming the starting role, it's unlikely Mrazek will be content to return as a backup. Another team can promise more games and more dollars, which will likely be deserved for the 29-year-old Czech native.
F Brock McGinn – The proposition of McGinn returning to the Canes is, at this point, anybody's guess. While he showed flashes of strong potential with a 30-point season in 2017-18, McGinn, now 27, has cooled off since then. He's still been a solid depth contributor, and he even saw some ice time with Sebastian Aho on the first line this season. But with the strength of Carolina's prospect pool, it may not make much sense to re-sign an aging, declining depth winger. With nearly 350 games of NHL experience, he'll find a home next season, whether it's in Carolina or not.
Other UFAs: F Cedric Paquette, F Jordan Martinook, F Max McCormick, F Sheldon Rempal, F David Gust, D Jani Hakanpaa, D Roland McKeown, G James Reimer, G Antoine Bibeau
Projected Cap Space
The Hurricanes have been smart in building a contender, signing players to affordable longer-team deals. It puts Carolina in a position to add big this offseason with nearly $30MM in cap space. They can't be too playful with their cash, however. After all, they have both goalie spots to fill in addition to big contracts due on both offense and defense. With Nino Niederreiter, Vincent Trocheck, and Martin Necas all in need of extensions after 2021-22, this offseason could be crucial in maintaining long-term success in Carolina.
Photo courtesy of USA Today Sports Images.  Contract information courtesy of CapFriendly.