Of those players set to reach unrestricted free agency this summer, Dougie Hamilton stands as one of the best. The Carolina Hurricanes defenseman is one of the league's best offensive weapons from the back end, while also posting some of the NHL's best possession numbers year in, year out. For some, he could be considered the top free agent available in 2021 and now he'll get an early start on the market.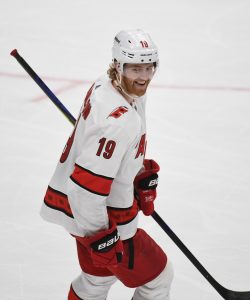 Elliotte Friedman of Sportsnet reports that Hamilton has been given permission from the Hurricanes to speak to other teams, opening up the potential for a sign-and-trade. Remember, only the Hurricanes (and Seattle Kraken) can sign Hamilton to an eight-year contract, meaning an acquiring team could maximize his term by working through Carolina before free agency opens. Of course, sign-and-trades are discussed a lot more than they actually happen, as the player being moved has to watch his new team give up several assets. Hamilton could just wait a few weeks and sign with that team for nothing more than money, though he then would only be eligible for a seven-year deal.
As Friedman notes though, this also could be a simple way for the Hurricanes to prove to Hamilton that their offer is competitive. Let the 27-year-old defenseman check out the market value on his services, before returning to Carolina to eventually re-sign. There have been cases like this in the past, most notably Steven Stamkos of the Tampa Bay Lightning. In 2016, Stamkos took meetings with several teams around the league before re-signing with the Lightning for eight years. Hurricanes fans will hope that scenario plays out with Hamilton, who has done nothing but produce since arriving in Carolina three years ago.
Over those three seasons, Hamilton has recorded 121 points in 184 games, including 42 goals, most among NHL defensemen. He finished 14th in Norris voting in 2018-19, seventh last season and very well could be even higher than that this time around. In 2020-21, he recorded 42 points in 55 games, once again posting outstanding possession numbers. Hamilton and Jaccob Slavin have developed an incredibly strong partnership, allowing each to use their best attributes effectively.
Of course, there are some who believe Hamilton is a little one-dimensional and would struggle without the support of the more defensive-minded Slavin. That belief could shrink his market, though it would not be surprising if more analytical-leaning front offices are falling over themselves to get a meeting with the defenseman. Either way, he's now allowed to talk to whoever he wants.
Photo courtesy of USA Today Sports Images