The Stanley Cup Finals are fast approaching, though no one from the final four is giving in easily. The year's biggest transactions are still probably a couple of weeks away, but that doesn't mean there has been a lack of news over the last week.
Empire State Of Mind: Things kicked off with a big name arriving in the Big Apple. The New York Rangers decided that Gerard Gallant would be the team's next head coach, signing the former Golden Knights bench boss to a four-year, $14MM contract. Gallant has never made it through three seasons with a single team, but posted a .601 winning percentage at his last stop and took Vegas to the finals in their inaugural season. With a cast of young talented players and some valuable veterans, Rangers GM Chris Drury will hope Gallant can turn another trick and get New York back to the playoffs in 2021-22.
It's An Honor To Be Nominated, But…: After finishing the finalist announcements, the league started handing out its regular season awards. Things started with Pekka Rinne of the Nashville Predators taking home the King Clancy and Oskar Lindblom winning the Masterton, both awards that have just as much to do with the player's off-ice dedication as their on-ice play. Things then got a little more interesting when Rod Brind'Amour took home the Jack Adams as the league's top coach, Aleksander Barkov won his first Selke as the league's best defensive forward, and Jaccob Slavin became just the fourth defenseman in history to take home the Lady Byng.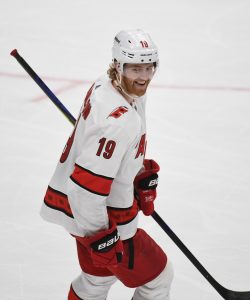 The Bod Is Back In Town: Just a few hours before Brind'Amour was awarded the Jack Adams, he received some different good news. The head coach signed a new three-year deal with the Carolina Hurricanes after a long negotiation. In his press conference, Brind'Amour confirmed that the talks took so long because he was making sure his staff also received new contracts. There were several teams around the league ready to pounce if the Hurricanes happened to let their coach go, but the program they've built in Carolina will continue to have the same leader for the next few years.
Raise A Glass To Freedom: Though Brind'Amour is returning, it might not be the exact same group in Carolina next season. Dougie Hamilton, one of the team's top defensemen, was given permission to speak to other teams in the league ahead of his pending unrestricted free agency. Hamilton, 28, is arguably the best defenseman in the 2021 free agent market and should be in line for a huge long-term contract. The act of letting him check out the market wasn't a white flag from GM Don Waddell, who explained that the team still hopes to sign Hamilton but now also has an opportunity to trade his rights if he decides to go elsewhere.
Coyote Ugly: If you miss out on Hamilton, there's always Oliver Ekman-Larsson if you're looking for a highly-paid defenseman. The Arizona Coyotes captain is once again exploring the trade market with the team, looking for a fit for both sides. Last summer, the Coyotes approached Ekman-Larsson about waiving his no-trade clause but he decided that only trades to Boston or Vancouver would be acceptable. After that didn't work out he spent the year in Arizona, playing 21 minutes a night and happily accepting his $8MM salary. Of course, this year a trade might be even more difficult, given the fact that he's owed $10.5MM in 2021-22 and none of it is due as a signing bonus. Ekman-Larsson has six seasons left on the eight-year, $66MM deal he signed in 2018, carries an $8.25MM cap hit, and holds a full no-movement clause through the end of 2026-27.
Photo courtesy of USA Today Sports Images