The NHL has announced the winner of another major regular season award. Jaccob Slavin of the Carolina Hurricanes has been awarded the Lady Byng Memorial Trophy, given "to the player adjudged to have exhibited the best type of sportsmanship and gentlemanly conduct combined with a high standard of playing ability". Auston Matthews of the Toronto Maple Leafs and Jared Spurgeon of the Minnesota Wild were the other finalists.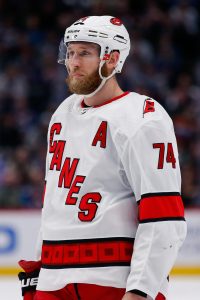 Slavin, 27, received 73 of the 100 first-place votes after recording just a single minor penalty in 52 games. He also becomes just the fourth defenseman to ever win the award and first since Brian Campbell in 2012. Slavin averaged nearly 23 minutes a night for the Hurricanes, carrying heavy defensive responsibility on a nightly basis. His career-low of two penalty minutes is incredible, yet somewhat unsurprising from a player that has never collected even 20 in a single season.
The top five were rounded out by Selke Trophy winner Aleksander Barkov and Rangers' star Artemi Panarin. 57 players in total received at least one vote, but Slavin was included on all 100 ballots. The runaway winner finished well ahead of second-place Spurgeon, who received just one first-place vote but 17 second-place ballots.
This is the first major regular season award for Slavin, who finished fourth in Lady Byng voting and fifth in Norris Trophy voting a year ago.
Photo courtesy of USA Today Sports Images