Topics in this edition of the PHR Mailbag include Pittsburgh's goalies, Colorado's decision to not add a more prominent backup goalie, some Seattle side deal speculation, a quick look a Boston's expansion situation, what sleeper teams could make some noise in the playoffs, a junior player that hasn't received much NHL interest, and some comments on some young NHL forwards that haven't quite found their way offensively.  If your question doesn't appear here, check back in last weekend's mailbag.
One More JAGR: Do the Penguins have the goaltending tandem to make it to the big show or is the lack of experience going to be an Achilles' heel?
The tandem of Tristan Jarry and Casey DeSmith (when healthy; both are currently hurt) is certainly far from the top tandem in the league but teams have gone deep with lesser starters before.  Both goalies have shown they can get hot for stretches and in the playoffs, a hot streak can win a round or two so I think they're capable of being good enough to do some damage if one gets going at the right time.
However, I'm not overly confident that they will be able to do that.  Pittsburgh is the top-scoring team in the league this season which is great but scoring rates typically go down instead of up in the playoffs.  That puts more pressure on the goalies to try to limit teams to two or less.  Jarry has allowed three or more goals in 20 of 39 appearances this season and DeSmith in nine of 20.  That's basically a 50/50 split on allowing three or more.  It's hard to go deep in the playoffs with those types of odds and with them looking like they'll line up against the Islanders, the games are definitely going to be lower-scoring.  One of them will need to get going right away to avoid an upset.
Eaton Harass: Why would Sakic go out and get two questionable backups instead of getting one solid one?
I think part of the problem was the uncertainly with Pavel Francouz's injury.  At the time they went and got Jonas Johansson, I suspect they were still holding out hope for Francouz to return.  If they thought he was going back, then just getting a short-term bridge guy made some sense and to Johansson's credit, he has been better than I thought he was going to be.
Devan Dubnyk's addition was a bit of a surprise though.  I thought Jonathan Bernier was going to be their target, someone who had played there before and while he's not a true starter, he's an above-average backup.  Dubnyk hasn't been that for a couple of years now so him being targeted was odd and I wonder if he was the fallback plan.  Landing on the COVID Protocol Related Absences List certainly hasn't helped things either.
However, the goalie trade market never really materialized.  Florida held onto Chris Driedger and Detroit kept Bernier, taking the two top options off the market in the process which limited their options to add more of an impact goalie.  The Panthers wanted the goalie insurance for their playoff run and I suspect the Red Wings are going to try to re-sign Bernier.  GM Joe Sakic doesn't strike me as someone that's going to push all of the chips to the table either.  They know they need some cost-effective players over the next couple of years and holding onto their top picks gives them a better chance to develop some of those.
Incremental upgrades were the name of the game for the Avs at the deadline as Sakic supplemented the depth instead of the core.  I think they should have been willing to pay a bit more to get a more reliable option but with most of the notable names not moving, I can't say for certain that they didn't try either.  If Philipp Grubauer can stay healthy though, who backs him up in the playoffs should ultimately be a moot point anyway.  But with what happened last year, I can certainly understand why there's a bit more emphasis on the backup this time around.
pawtucket: Who (or what) will Seattle's biggest acquisitions be?
This is really hard to predict when we're more than two months away from protection lists being released.  Trades will be made, players will be injured in the playoffs which could shift them from protected to unprotected, and there may be another GM change or two on the horizon which could also affect things.  As a result, at this point, the best I can offer is a couple of vague predictions on side deals.
Tampa Bay needs to dump money and Seattle has the ability to absorb it better than anyone else can.  Tyler Johnson's $5MM AAV needs to come off the books.  I suspect that Seattle is going to receive a significant package in exchange for selecting Johnson.  Given their free agent situation up front and a need for several low-cost forwards, I suspect the incentive is going to come from the back end where Cal Foote, a 2017 first-round pick, seems like a player that could be part of that package as someone that can start on Seattle's third pairing and ideally work his way up a bit.
Right now, Washington's goaltenders seem like the logical target as they can't protect both Vitek Vanecek and Ilya Samsonov.  Neither are ready for full-time number one duty but both are young and cost-controllable.  Combined, that tandem certainly could work for the Caps for a few years.  With that in mind, I expect GM Brian MacLellan to work out a side deal to keep them around.  That shouldn't cost a top prospect but their upcoming second-round pick seems like something Kraken GM Ron Francis may be asking for.
As the offseason gets going, we'll certainly be diving deeper into the situations for the 30 teams that will lose players (Vegas is exempt) where we'll be able to put together better pictures of what could happen so I'm sure we'll be able to come up with some predictions as we get closer to the expansion draft.
case7187: With the exp draft coming who should the Bruins protect? We know the Big 3 and Coyle (NMC) while they should trade DeBrusk; they should've done that last season when he had value. The 3 D are Carlo McAvoy and Grzelcyk (IMO they should look to move him as well with his long list of injuries) but goalie not sure and not really worried about some of the other guys this season has shown me the need to blow up the bottom nine.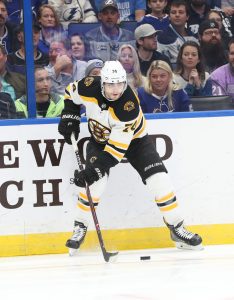 I'm going to go a little out of order and talk about Jake DeBrusk first.  I don't see there being much of a viable trade market for him this summer.  The year he is having has hurt his trade value considerably and his back-loaded contract only makes things worse as his $4.85MM salary is far from desirable.  I'll take it a step farther and say there's a better chance he's bought out than traded.  As he's under 25, it's only a one-third cost and the back-loading of the deal would make for a pretty low cap charge.  (Per CapFriendly, doing so would give Boston a cap credit of $366K next year and a cap charge of $808K in 2022-23).  To me, that's more desirable than trying to move him for another bad contract.
Now let's look at the forwards.  As you noted, Brad Marchand, Patrice Bergeron, and Charlie Coyle are locked in with no-move clauses and David Pastrnak is an obvious choice.  I'm going to put Nick Ritchie and Craig Smith as my next two picks; Ritchie remains young enough to still improve and has been a lot better than he was in limited action last year after being acquired while Smith is on a pretty good contract.  That leaves one spot for Trent Frederic and Zach Senyshyn, two prospects who haven't done much with their chances.  Frederic gets the spot as he has at least mostly established himself as a regular while Senyshyn is more on the fringes.  For anyone checking, that leaves DeBrusk, Ondrej Kase (injuries make him a safe bet to not be picked), Curtis Lazar, and Chris Wagner as unprotected forwards and they would be in compliance with the requirement to have at least two signed players unprotected that have played in 27 games this year or 54 over the last two years with this list.
I agree with the defense although it leaves Jakub Zboril and Jeremy Lauzon exposed and I wouldn't be surprised if one of those two get picked by Seattle.  I kicked around the idea of leaving Matt Grzelcyk exposed with his contract but Boston's back end can't take any more hits in terms of losing established talent.  As for goalies, Jeremy Swayman is exempt while Tuukka Rask and Jaroslav Halak are UFAs and aren't at any risk of being signed and picked.  That puts it between Daniel Vladar and Callum Booth and of those two, I'd protect Vladar.  It means that Booth needs a qualifying offer when he hasn't earned it but they're not going to be the only team qualifying a goalie for that very reason.
wreckage: Whom are the biggest sleepers entering the postseason? Everyone expects big things from Tampa, Colorado, Vegas, and Toronto. Could a Minnesota, Edmonton, Montreal, or Florida surprise and make a run?
I think Minnesota's the team to watch for here.  They've given Vegas fits this season winning five of eight games with two of the three losses coming in overtime.  They've also been alright against Colorado who right now lines up as their more probable first-round matchup.  They're scoring at a good clip but have a fairly balanced attack and both Cam Talbot and Kaapo Kahkonen have shown themselves to be capable of playing quite well for a long stretch.
I'm not as bullish on the other three you listed.  Edmonton's still largely the same team that got upset in the bubble a year ago and no matter how well Connor McDavid and Leon Draisaitl do, they probably can't carry the load alone while having success in the playoffs.  Montreal is supposed to be built for the playoffs but they haven't looked good outside of the first ten games of the season.  If they're healthy by then, they're good enough to give a team a scare but I don't see them going deep.  I give Florida a ton of credit for turning things around but I can't pick them to beat a Tampa Bay team that's going to get captain Steven Stamkos and top winger Nikita Kucherov back.
I'm going to add the Islanders to the list as well.  They've shown that they can have playoff success with good defense and goaltending and those elements are definitely still in place.  Their offense is a bit deeper than it was a year ago and it would not surprise me much at all if they were the team that comes out of the East Division.
bigalval: How is Pavel Gogolev doing and where is he playing right now? I really think this kid could be good and he went undrafted. Am I the only one who believes in him?
It has been a few months since we checked in on Gogolev although not a whole lot has changed since then.  He spent about six weeks in Sweden's Allsvenskan, a level below the SHL where he didn't produce much with just two goals and an assist in a dozen games.  He then went back to North America in February on a tryout deal with the Marlies but has played in just four games since then, scoring a single goal.
Gogolev's track record of higher-end success is minimal, basically limited to his final junior season.  Plenty of players get big jumps in their last year though granted, they typically don't produce 45 goals and 51 assists like he did.  But that alone doesn't make him an NHL-caliber prospect.  The fact that he has gone undrafted and hasn't been able to even earn an AHL contract (a tryout deal isn't really the same) suggests that scouts are not particularly high on his potential.
He can shoot, that much is a given.  But that element alone isn't going to get him into the NHL.  His best bet is to find a team – either in the minors or overseas – that he can join for a couple of years and get some stability where he can work on improving some other elements of his game that could help get him on the NHL radar.  But as things stand, it seems quite unlikely that there's an NHL future on the horizon for him.
Pieters: I'm in a 12-team dynasty league counting G, A, Pts, +/-, PIM, PPP, SOG and Hits. Last year I joined an expansion team and attempting to build a contender. I'm on the bubble this year as to whether the following players well break out to meet potential; Sam Steel, Dillon Dube, Jordan Kyrou, Sam Poulin and Cody Glass. Other than Poulin they've appeared to get some opportunity but have struggled to date. Any opinion on these is appreciated.
Let's tackle these one at a time:
Steel – I'd be a bit worried if I was Ducks GM Bob Murray.  This is his third professional season and he hasn't progressed much at all.  More worrisome is that Anaheim simply can't score.  It's one thing for Steel not being able to carry a line; he's 23 and that's not supposed to be his job.  But the veterans aren't good enough to lead the way either and until that changes, he's going to be spinning his wheels.
Dube – I think there's a bit more room for offensive growth.  He has established himself as a gritty bottom-six player which has earned him some spot duty higher in the lineup.  If that continues, he could be a breakout candidate in a couple of years.  He seems to be on the right trajectory although his ceiling is probably around 40 points or so.
Kyrou – This is the first year where he has had some consistent opportunities and the results have been pretty good with 32 points in 52 games.  That's a 50-point pace over a full season and he's doing that despite averaging less than 15 minutes a night and second unit power play time.  There's definitely cause for optimism for him to take on a bigger role and should be on your radar as a breakout candidate for next year.
Poulin – Given Pittsburgh's stated desire to add some size and grit to the lineup, it certainly seems like Poulin has a good shot as a spot next season.  However, that will be in a limited role most likely as not a lot of players go straight from junior to a top-six role.  He has the upside to get there but it probably won't be in 2021-22.
Glass – I was expecting big things from him this year and thought he'd push for a regular spot on the second line.  Clearly, that didn't happen.  There's definitely time for him to rebound but with Chandler Stephenson establishing himself as a top-two pivot, Glass will have to work his way up from the third line so it may be a couple of years before he takes that big step forward.
Photo courtesy of USA Today Sports Images.