The end of the regular season has arrived, at least for some teams and the coaching carousel is already underway.  However, that news still paled in comparison to the biggest controversy of the week which gets plenty of coverage in our key stories.
Rangers-Capitals: Let's start with the big one.  Capitals winger Tom Wilson was involved in a pair of incidents of note, one with Pavel Buchnevich which only drew a $5K fine, the max allowable in the CBA.  However, a scrum in which he tossed Artemi Panarin who jumped in to protect his teammate, went without discipline which drew plenty of opinions from those who agreed and disagreed vehemently with that decision.  New York left no doubt as to where they stood on the matter, issuing a statement expressing their disappointment with the lack of discipline on the Panarin situation, noting that the winger's season came to an end as a result of the incident.  However, the biggest story was that they called for the removal of George Parros as the head of Player Safety, calling the inaction a dereliction of duty.  Not surprisingly, that earned them a $250K fine.
It didn't stop there, however.  The two sides met up just two days later and decided to take out their frustrations on each other.  There were six fights in the first five minutes and 100 penalty minutes in the opening period.  Six misconducts were handed out in the game with Buchnevich picking up one of them along with a major penalty, earning him a one-game suspension in the process.
Gorton And Davidson Out: In somewhat of a surprising move, the Rangers fired GM Jeff Gorton and team president John Davidson, naming Chris Drury as the successor in both roles.  Gorton had been shepherding the team through their rebuild following their letter three years ago that said they would be rebuilding the core.  Since then, they had brought in several players that are expected to be part of the next young core while landing Panarin in free agency.  Davidson, meanwhile, joined the team less than two years ago, leaving the same role with Columbus to return 'home' to a city where he spent the final eight years of his playing career not to mention extended time as a broadcaster.  The fact that Drury is the replacement should come as no surprise.  He eschewed opportunities to interview elsewhere in recent years with the team creating an Associate GM position back in February to elevate his responsibilities and salary.  He'll now be tasked with finishing off the rebuild and getting the Rangers back to playoff contention.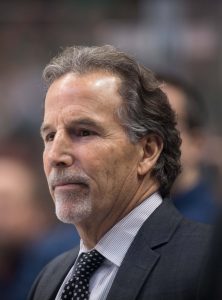 Tortorella Leaves Columbus: In a move that shouldn't come as too much of a surprise, the Blue Jackets and head coach John Tortorella agreed to mutually part ways.  The 62-year-old was at the helm in Columbus for the last six seasons, leading the team to a .568 point percentage along the way while winning the Jack Adams Award as the coach of the year back in 2016-17.  He also helped lead them to a playoff series victory in 2019 and while that may not seem like much, it's the only one they've had in franchise history if you don't count the play-in victory over Toronto last year as a true playoff winS.  However, his combative style hasn't always sat well with players and there has been a considerable talent drain in recent years as top free agents have headed elsewhere and some have suggested Tortorella could be part of the season.  Top center Pierre-Luc Dubois demanded a trade earlier this season and Patrik Laine, the key part of the return, had a tough time under Tortorella.  The team won just 18 games this season and will now be on the lookout for a new bench boss.
Forsberg Extension: It wasn't just doom and gloom over the past seven days.  A nice story in Ottawa emerged when they gave goalie Anton Forsberg a one-year, $900K contract extension.  That alone doesn't tell the tale though.  He originally started out as Edmonton's intended third-stringer before being claimed off waivers by Carolina, Winnipeg, and eventually Ottawa in mid-March before he had even played a game.  He has spent more time in quarantine than on the ice this year but did enough in seven appearances to earn some stability for next year and a $200K raise for good measure.  As the old adage goes, good things come to those who wait.  Forsberg had to wait a while before he could even play a game but his patience was rewarded.
Coyotes Make A Change: Tortorella isn't the only coach looking for his next opportunity as Rick Tocchet is out as head coach in Arizona after four seasons in the desert.  He helped lead them to a .490 point percentage over that span and didn't have a lot of postseason success with the team making it just once.  While they took out Nashville on the back of Darcy Kuemper in the Qualifying Round last summer, they were quickly dispatched by Colorado after that.  The Coyotes have had trouble scoring throughout Tocchet's tenure and GM Bill Armstrong will likely be looking for a replacement that can help get the most out of their forward group headed by Clayton Keller and Phil Kessel.
Photo courtesy of USA Today Sports Images.