When the news came down in 2016 that Adam Larsson had been traded straight up for Taylor Hall, many mocked the Edmonton Oilers for the return they received from the New Jersey Devils. After all, Larsson had a career-high of 24 points in a season and didn't seem like a true top-pairing option.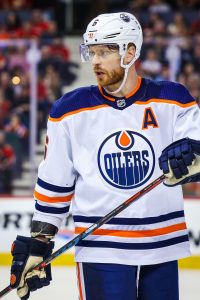 Part of the reason the Oilers targeted Larsson though, other than his handedness, was his contract. He had signed a six-year, $25MM deal with the Devils in 2015 that meant he would carry just a $4.16MM cap hit through this season. Hall was more expensive at $6MM per season and, now five years later, has played for four different teams.
The deal looks a little more even now that Larsson has established himself as the Oilers' best shutdown defenseman and will look even better if they can manage to sign him to a reasonable extension. On Hockey Night In Canada this evening, Elliotte Friedman reported that the Oilers and Larsson have been in negotiations since before the trade deadline and have made good progress on an extension. Friedman expects the deal to come in around four years in length.
Larsson's career-high is still 24 points, set in the 2014-15 season with New Jersey, but he has been a very important part of the Oilers this year. The 28-year-old trails only Josh Archibald for the team lead in hits, is far and away the team leader in blocked shots, and averages more than two minutes on Edmonton's 11th-ranked penalty kill every night. He's still not a true top-pairing, all-situations defenseman, but an extension makes sense for both sides.
The Oilers also have Tyson Barrie to think about this summer, but are saving some money on Kris Russell's extension, which brings his cap hit from $4MM to just $1.25MM next season. With a deal for Larsson on the horizon, the team will have to spend carefully on the margins if they want to bring both Barrie and Ryan Nugent-Hopkins back.
Photo courtesy of USA Today Sports Images