The Nashville Predators have won three of their last four games and had a familiar face on the ice at this morning's skate, as injured captain Roman Josi joined the group while working his way back. The team also had pending unrestricted free agent Mikael Granlund on the ice after he missed the team's game on Sunday, but still absent were the group of Matt Duchene, Luke Kunin, and Ryan Ellis.
Ellis specifically is not close to a return, but that doesn't mean he won't be making headlines. Elliotte Friedman of Sportsnet opened his 31 Thoughts column today with a note on the veteran defenseman, explaining that he is no longer off-limits in trade talks. Ellis was one of three players that Friedman listed as an "untouchable" when discussing the Predators last month, but now writes that "something's made the Predators think."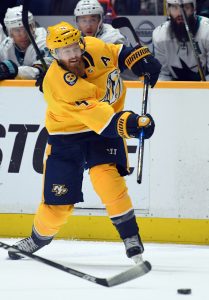 Specifically, Friedman speculates that the Philadelphia Flyers could be a fit for Ellis, given how long he could be an impact player for them. The recently-turned 30-year-old is under contract through the 2026-27 season at a cap hit of $6.25MM, more than reasonable when Ellis is playing at his full capacity. There aren't a ton of defensemen that can impact the game as much as Ellis when healthy, as shown by his outstanding offensive and defensive numbers.
Since his first full season in 2013-14, Ellis ranks 30th among defensemen in scoring with 244 points, fifth in plus/minus at +103, and has averaged more than 21 minutes a night playing on both the powerplay and penalty kill. If possession statistics are more your taste, his 56.5% on-ice GF% puts him 10th among defensemen with at least 100 games played, and he comes in at 27th in CF% at 52.7%, again among those with at least 100 games played since 2013-14.
In short, Ellis is a true top-pairing defenseman that could be a game-changer for many teams around the league, though it's not clear what kind of package would be needed to pry him out of Nashville. Even his inclusion in trade talks is surprising and may point to a more widespread rebuild plan for Predators GM David Poile.
Also mentioned in Friedman's piece is Granlund, who continues to be among the top rental options on the market, and Calle Jarnkrok, who still has a year left on his contract. The 29-year-old Jarnkrok was one of the long-term deals that paid off for Poile, who signed him to a six-year, $12MM deal in 2016 after just 167 NHL games. While he has never really developed into a top scoring option, Jarnkork has chipped in double-digit goal totals in each season of the deal and has 15 points in 26 games this season. For just a $2MM cap hit, that kind of scoring depth is valuable, especially when it is versatile enough to play center or the wing.
Mattias Ekholm is the other big name available in Nashville, and though Ellis steals Friedman's headline, the Sportsnet scribe tucks in another note. Other executives around the league believe that Montreal Canadiens GM Marc Bergevin has "made a push" for Ekholm, despite his pleas to the media that it will be a quiet deadline for the club. Ekholm has been linked to almost every contender in the league at one point or another, given how effective he is for a relatively low cap hit. The 30-year-old is under contract through next season at a $3.75MM cap hit, though is owed $5MM in actual salary for 2021-22.
Even with several obstacles in the way of trades this season, it seems to be shaping up as an exciting deadline for the Predators if they want it to be.
Photo courtesy of USA Today Sports Images