When Mattias Ekholm's name hit the rumor mill earlier this month, eyebrows around the league raised a little bit. The top-four defenseman would be an asset for basically any contender in the league and teams were hoping he would hit the market at some point this season. Well, it sounds like it's not just Ekholm that's available in Nashville.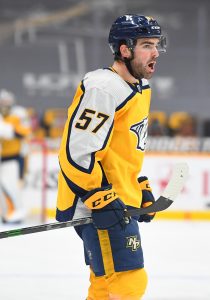 From Elliotte Friedman on Hockey Night In Canada's Headlines segment this evening (via Adam Vingan of The Athletic on Twitter):
Word is maybe only three untouchables — Roman Josi, Ryan Ellis and Pekka Rinne, who's towards the end of his career. I think other than that, the Predators are willing to listen on just about anybody. That includes Filip Forsberg. That also includes, I found really interesting, Dante Fabbro.
Fabbro, who is still just 22, is on the final year of his entry-level contract and will be a restricted free agent in the summer. The young defenseman was the 17th overall pick in 2016 and played in 64 games last season for the Predators, scoring 11 points and averaging just over 19 minutes a night. It's hard to imagine the team would be giving up on him already, but perhaps they see him as a moveable piece if it leads to a fix elsewhere on the roster.
It had already been reported that Mikael Granlund and Erik Haula, who are each on one-year deals and pending unrestricted free agents, are likely to be moved if Nashville starts selling. But Forsberg too should draw plenty of interest if he's actually available. The 26-year-old has one more year on his contract after this season and carries a manageable $6MM cap hit. Even in a tough year for the team he's been the one offensive piece the Predators can rely on, scoring 14 points in his first 16 games (he is scoreless in tonight's match as of this writing).
There's also Viktor Arvidsson, who has been an offensive leader in the past, and the two expensive centers in Matt Duchene and Ryan Johansen. For contenders looking to add, it's not a short list of talent to pick from in Nashville, even if they haven't put it all together recently.
Photo courtesy of USA Today Sports Images