One of the lasting images from the Carolina Hurricanes 2006 Stanley Cup championship was that of a 21-year-old playoff rookie hoisting the trophy over his head after leading the entire league in postseason scoring. Fellow youngster Cam Ward took home the Conn Smythe trophy that year, but it could have easily been Eric Staal, the franchise center that had racked up 100 points in the regular season and 28 in 25 playoff matches. Staal was just two years into his NHL career after being the second overall pick in 2003, but he was already the face of the Hurricanes.
Just three years later in 2009, Staal would become the captain of the Hurricanes, taking over from Rod Brind'Amour even though the veteran forward would still play another season. At the time, Hurricanes GM Jim Rutherford released this statement:
Rod has been the consummate leader for the Hurricanes since his acquisition nearly 10 years ago. He is the only captain in franchise history to lift the Stanley Cup, and he will continue to play a leadership role in our organization.

The time has come now for Eric to assume the top leadership role for his teammates. This is part of the rebuilding process for the Hurricanes, as Eric is the player around whom the team will be structured. We feel confident in Eric's ability to lead his teammates and are excited to begin this next era.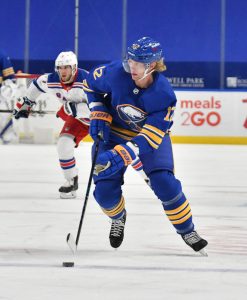 Brind'Amour remains the only captain to win a Stanley Cup with the Hurricanes and Staal would have just one other playoff run during his tenure in Carolina. His career would be stamped there, however, with 775 career points coming in 909 regular-season games before a 2016 trade took Staal to the New York Rangers.
Now, several years later, another midseason trade could potentially bring Staal back to where it all began and reunite him with Brind'Amour, who now stands behind the bench instead of sitting on it. On TSN's Insider Trading today, Pierre LeBrun explained that the Hurricanes management has discussed the idea of bringing Staal back.
What I'm told is that the Hurricanes have talked about 'hey, if Eric Staal is on the Buffalo roster closer to April 12, maybe we give the Sabres a call and see what it would take to bring him back here to Carolina.' It's a storyline that I think a lot of people could get behind. 
What a storyline indeed, 15 years after he and Brind'Amour led the Hurricanes to the franchise's only Stanley Cup. Staal isn't the same player as he was then, with only nine points in 24 games this season, but could still provide some experience and leadership to a Carolina team looking as dangerous as ever. The Hurricanes are 18-6-1 on the season, have won six straight and are only one point behind the defending champion Tampa Bay Lightning for first in the Central Division. It was just two years ago that this team went to the Conference Finals as an underdog; they wouldn't be considered much of one if they get back there this time.
Still, Staal to Carolina is anything but a lock, and LeBrun explains that there "could be a Canadian team or two" that push for him well before the trade deadline. Speculation has run rampant that Staal could be a fit for the Toronto Maple Leafs, though certainly a team like the Edmonton Oilers could use his center capabilities as well. That's not to mention any number of other teams who could see the $3.25MM cap hit Staal brings and believe he could be a piece for a Stanley Cup run.
The veteran forward does have some say, with a 10-team no-trade list, but reports indicate he would be willing this year to waive it in order to go to a contender. If anything, he knows exactly what it would take to get Carolina to that level.
Photo courtesy of USA Today Sports Images