Even without four of their best players, the Washington Capitals have stayed at the head of the East Division, undefeated in regulation through their first eight games. Alex Ovechkin, Evgeny Kuznetsov, Dmitry Orlov, and Ilya Samsonov have missed the last several contests after a hotel room gathering got all four placed on the COVID Protocol Related Absences list. Today, both Ovechkin and Orlov were taken off the list, returned to practice, and now the former has also been added to the active roster. Ovechkin had been designated non-roster since the incident, but now will be eligible to play tonight as Daniel Carr heads to the taxi squad.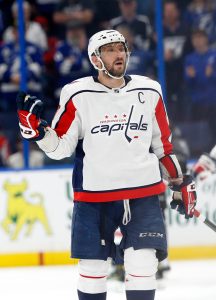 Orlov could also be in the lineup tonight when the Capitals take on the Boston Bruins, but he was never moved off the roster so did not need any activation.
Carr, 29, played in two of the games that the other four missed, scoring the first assist of his Capitals career in the process. The depth forward has only played 113 games at the NHL level and will have to wait patiently for his next opportunity through injury or illness.
Ovechkin meanwhile returns to a season that started with a bang, recording five points in his first four games. The legendary winger has led the league in goals for seven of the past eight seasons and likely won't take very long to notch his second of the season. Perhaps the days off will even keep him healthier in the long run, especially as the 35-year-old navigates a condensed season.
Photo courtesy of USA Today Sports Images