After a long layoff, the NHL has returned and as is always the case at the beginning of the season, there was plenty of news around the league; the biggest ones are highlighted in our key stories.
Hoffman Officially Signs: It was only a matter of time before Mike Hoffman officially signed with St. Louis and that deal finally came to fruition as he inked a one-year, $4MM contract.  Once touted as one of the top wingers to hit free agency last October, the veteran wound up having to take a notable pay cut from the $5.1875MM AAV on his previous deal and not get the long-term security he was seeking.  That worked to the benefit of the Blues who have their short-term replacement for Vladimir Tarasenko (who was placed on LTIR) at a more than affordable price tag.  Hoffman's contract doesn't contain any form of trade protection.
Foligno Extension: Wild winger Marcus Foligno decided to forego testing unrestricted free agency and instead signed a three-year, $9.3MM contract extension with Minnesota.  The 29-year-old earned a small raise on his current $2.875MM AAV, no small feat considering how bottom-six wingers took a hard hit in free agency last offseason.  Having said that, Foligno isn't a typical bottom-six winger either as while he brings plenty of physicality and defensive ability to the table, he also had a career year offensively in 2019-20 with 11 goals and 14 assists in 59 games.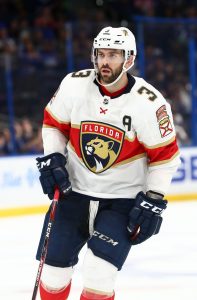 Yandle Saga: Veteran defenseman Keith Yandle has been one of the top offensive defensemen in the league over the last several years and has been a fixture on Florida's back end for the past four years.  But it has been a roller-coaster week for the 34-year-old who spent most of training camp skating with expected reserves and minor leaguers amidst reports that he was available although his contract ($6.35MM AAV through 2022-23 with a no-move clause) will make a trade difficult.  While things were trending towards him being a healthy scratch and his 866-game ironman streak ending, there was a late change of heart and he was in the lineup on Sunday night where he scored Florida's second goal of the game, the 100th of his career.  Nevertheless, it's unlikely we've seen the end of this particular situation.
Toews To LTIR: Late last month, the Blackhawks released a statement noting that captain Jonathan Toews wouldn't be participating in training camp with the veteran feeling "drained and lethargic".  There's no timetable for a return but we know he'll at least miss several more weeks with Chicago transferring Toews to LTIR, meaning he'll be out for at least 10 games or 24 days.  It's the latest in a series of recent blows to their attack with youngsters Kirby Dach and Alexander Nylander already effectively out for the season.  Now they'll be without their top center and second-leading scorer for a while.
Colliton Extension: Still with the Blackhawks, they appear to be pleased with the direction of the team under Jeremy Colliton as they gave their head coach a two-year contract extension.  He was already signed for this year so his new deal will take him through the 2022-23 campaign.  Colliton took over behind the bench early in the 2018-19 season and the team has posted a 62-61-17 record under his watch.  With Chicago committing to a longer-term rebuild, this deal allows GM Stan Bowman to assess whether or not Colliton is the right fit for the long term while allowing him to shepherd the team through the likely tough times ahead.
Photo courtesy of USA Today Sports Images.