Though it had been expected for some time, the St. Louis Blues officially signed Mike Hoffman to a one-year contract today. The deal will pay the free agent sniper $4MM and effectively ends his professional tryout. The Blues had to wait to complete some cap gymnastics in order to fit Hoffman in, but the contract is now filed.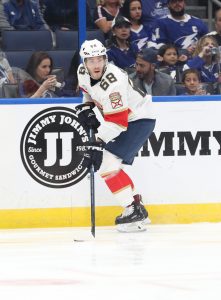 Hoffman, 31, was our fourth-ranked player on the annual Top 50 UFA list at the start of the offseason, but after the market quickly turned was left without a long-term deal. Though perhaps other teams offered multi-year pacts, he ended up agreeing to a one-year deal with a strong club in the hopes that his market will be strong again next offseason when things are, hopefully, a little closer to normal. There's absolutely no on-ice reason for Hoffman's long wait as he was arguably the best goal-scoring weapon available on the market and now goes to a team that will be in need of a new sniper.
The Blues are without Vladimir Tarasenko for the time being and watched Alex Steen retire due to injury, meaning there's plenty of opportunity for Hoffman in St. Louis. He's been playing in camp so far with Jaden Schwartz and Robert Thomas on a dynamic second line, while also being a go-to option on the powerplay.
Taylor Hall also settled for a one-year deal but went to a rebuilding team in Buffalo for the chance to play beside an all-world talent like Jack Eichel. Hoffman took a different approach, joining a strong team that is a lot more likely to bring some playoff time. In his near-500 game NHL career, Hoffman has only played in the postseason three times and that includes Florida's qualification-round loss to the New York Rangers last summer. In St. Louis, there's not only a chance he could rebuild some value, but he also might get a chance to raise the Stanley Cup as they did in 2019.
How can they afford him exactly? It's a complicated dance that will include placing Tarasenko and Steen on long-term injured reserve, while likely maintaining an NHL roster below the 23-man limit. Worth it for a player who has scored at least 22 goals in each of his six full seasons, but still difficult to navigate throughout the season.
Photo courtesy of USA Today Sports Images