Moose isn't going anywhere for a while. The Minnesota Wild have signed Marcus Foligno to a three-year extension that will keep him under contract through the 2023-24 season. The deal carries an average annual value of $3.1MM. Foligno currently carries a cap hit of $2.875MM on the final season of his four-year, $11.5MM deal signed in 2017.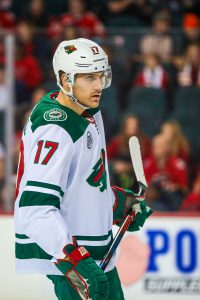 The 29-year-old Foligno may not contribute a ton at the offensive end of the rink, but he is one of the few rare players in the NHL that doesn't really need to. Standing 6'3″ and close to 230-lbs, the power forward combines speed, power, and fearlessness to create a valuable middle-six winger that punishes defenders constantly while limiting chances against. Foligno posts strong possession numbers every year, averages around 200 hits per season, and even received Selke Trophy consideration in 2019. He's well-liked by management in Minnesota and this early extension only confirms how committed they are to him.
Interestingly, Foligno actually experienced something of a breakout offensively last season, scoring 11 goals and a career-high 25 points in just 59 games. That's nice, but it's not what he's paid for. Expected to line up beside Jordan Greenway and Joel Eriksson Ek on the Minnesota third line, he'll hunt down defenders, cause havoc in the corners, and backcheck relentlessly.
Still, and it's important to note this even if you're a Minnesota fan happy to keep Foligno around, the Wild have made a habit of committing early to their core players and this new deal only locks up more cap space moving forward. The team now has nearly $58MM on the books for 2021-22 with just 13 players signed, seven of which (including Foligno) will be at least 30 when that season begins. For a franchise that hasn't experienced any real playoff success in its history, sticking with the same core may not be the best strategy.
Of course, as Michael Russo of The Athletic points out, this new extension for Foligno does not include trade protection of any sort. He's not guaranteed to stay in Minnesota throughout the deal and in fact, easily could become a target for the Seattle Kraken in the upcoming expansion draft. The Wild have a lot of tough decisions to make before that expansion process is completed, given all of the no-move clauses they've handed out over the years.
For now, Foligno has some financial security in hand and a season to play with the team he has known since 2017. Minnesota kicks things off on Thursday against the Los Angeles Kings.