The list of remaining restricted free agents that aren't playing overseas begins and ends with Jets winger Jack Roslovic.  He has made his preference for a trade known but as of yet, nothing has come to fruition and so he sits at home while hoping for his fortunes to change.  Sportsnet's Elliotte Friedman reports in the latest Saturday Headlines segment (video link) that the Penguins are among the teams that are quite interested in bringing Roslovic in.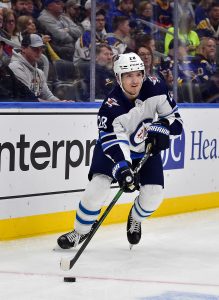 The 23-year-old hasn't quite lived up to his first-round billing after being the 25th overall pick back in 2015 but he has become a serviceable middle-six winger and managed to put up career highs offensively last season despite the pandemic with 12 goals and 17 assists in 71 regular season games while chipping in with a pair of assists in four postseason contests.  A natural center, Roslovic could still shift back down the middle which would only boost his long-term value.
Considering the situation, a short-term bridge deal of one or two years makes the most sense for both Roslovic and whoever winds up signing him, be it Winnipeg or someone else.  It's hard to see him checking in at much more than double his previous salary which would put him in the $1.65MM to $2MM range or so.
What will make a trade tricky for Pittsburgh is that they don't have that much cap room to add Roslovic without subtracting someone from their roster first or as part of the deal and with this being a year where moving money and making trades is going to be more difficult than usual, it's not an insignificant factor.  Pittsburgh has gotten off to a bit of sluggish start (though they got their first win today) but it appears that GM Jim Rutherford is already looking to add to his roster with an eye on Roslovic, just as long as they can afford his next contract first.
Photo courtesy of USA Today Sports Images.