2020 was certainly a unique year away from the rink.  However, it was also a year that featured several big trades and free agent signings, coaching changes, and much more.  Over the coming days, PHR will take a look back at the top stories from around the game on a month-by-month basis.  Next up is a look at April where some teams tried to take care of some contractual business while waiting out the pandemic.
Goalie Deals For Columbus: The inexperienced tandem of Joonas Korpisalo and Elvis Merzlikins wound up playing rather well for the Blue Jackets and they were awarded sizable raises as a result.  Korpisalo signed a two-year, $5.6MM deal with his $2.8MM AAV more than doubling his previous $1.15MM price tag.  Merzlikins, meanwhile, fared even better, inking a two-year, $8MM pact with his $4MM AAV being more than four times higher than his $874K salary from last season.  The contracts give Columbus a pretty good goalie tandem for a fairly low cost.  However, the moves also walk both goaltenders to UFA eligibility in the 2022 offseason and at that time, they will almost certainly have to pick which one to keep and which one will go elsewhere.
Cave Passes Away: Oilers forward Colby Cave passed away at the age of 25.  Days before his passing, he had been placed in a medically-induced coma after suffering a brain bleed and underwent emergency surgery to remove a colloid cyst that was causing pressure on his brain and while that procedure was successful, he remained in the coma until his death.  He played in 67 career NHL games over parts of three seasons between Boston who signed him back in 2015 and Edmonton who claimed him off waivers in January of 2019.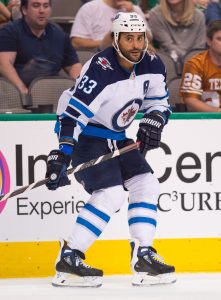 Byfuglien Termination Official: After Winnipeg was unable to find a taker in a trade for Dustin Byfuglien, they agreed on a mutual contract termination, putting an end to one of the more bizarre situations in recent memory.  The veteran reported for camp, then left abruptly and ultimately underwent ankle surgery in October without consulting the team.  He then filed a grievance to try to recover his pay, citing it was a hockey-related injury.  That grievance was settled as part of the termination with the Jets not owing any of his $14MM that was remaining on his contract.  Byfuglien immediately became an unrestricted free agent and spurned overtures from teams in free agency this offseason, including Minnesota.
Veteran Retirements: A pair of long-time NHL veterans decided to call it a career.  Defenseman Andrei Markov hung up his skates after spending the last three seasons in the KHL.  Before that time, he was a fixture on Montreal's back end, playing in 990 games over parts of 16 NHL seasons which ranks him sixth in franchise history in that regard while he potted 119 goals and 453 assists.  Meanwhile, winger Kris Versteeg also announced his retirement.  He split last season between the minors and a brief stint in Slovakia where he got to play with his brother Mitch.  Versteeg played with seven different NHL teams over parts of 11 seasons, amassing 149 goals and 209 assists in 643 contests.
St. Louis Extensions: The Blues took care of a pair of pending free agents by signing them to new deals.  First, winger Sammy Blais signed a two-year, $3MM deal after averaging nearly four hits per game last season while chipping in with 13 points in 40 games.  The team then reached an agreement on a four-year, $13.1MM extension with defenseman Marco Scandella the next day.  He was acquired from Montreal in advance of the trade deadline and looked good in 11 regular season games before the pandemic hit while logging over 20 minutes a night.  In extending him, the Blues sent their 2021 fourth-round pick to the Canadiens as part of the trade, something that has since been ruled illegal as part of the new CBA.
Photo courtesy of USA Today Sports Images.