The next arbitration hearing is set for Thursday, with Ryan Strome and the New York Rangers sitting down (virtually) to make their case for a new contract. Today, they exchanged filings. Strome has filed for $5.7MM, while the Rangers have filed for $3.6MM, according to Elliotte Friedman of Sportsnet.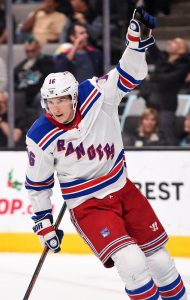 It is important to remember that in the NHL, the arbitrator does not need to choose one filing or the other and usually instead awards a contract somewhere in the middle. The two sides can also come to an agreement in the coming days, though this year once the hearing begins they must wait for the reward and cannot settle while the arbitrator deliberates.
In this case, the player's ask is above the $4,538,938 "walk away" threshold, meaning that if the award comes in above that number the Rangers would have the option to release Strome to unrestricted free agency instead. If they choose to do that, Strome would actually have an opportunity to take the initial $3.6MM team filing instead of testing the market—a tougher decision in today's flat-cap world.
Already 27, Strome is only eligible for a one-year contract and would become a UFA next offseason. The fifth-overall pick from 2011 has had a very up-and-down career, finding his footing early with the Islanders only to struggle for several years afterward. Following an unsuccessful stint with the Edmonton Oilers, Strome has found a new home in New York, recording 18 goals and 59 points last season.
The savvy, playmaking center still doesn't have the greatest foot speed or elite raw skills but has proven he can be a capable middle-six pivot in the right situation. With the Rangers suddenly looking extremely dangerous at forward, perhaps they would be willing to pay up for a season of Strome to see what this group can do in the standings. A long-term deal is still obviously possible, if unlikely, especially if it would cost the Rangers upwards of $5MM per season. The team has several young players to get under contract in the coming years and may not be able to afford a contract like that for Strome.
Photo courtesy of USA Today Sports Images