The Detroit Red Wings have reached an agreement with Anthony Mantha on a new four-year contract. Elliotte Friedman of Sportsnet reports that the deal is worth an average annual value of $5.7MM. Pierre LeBrun of The Athletic provides the full breakdown:
2020-21: $4.5MM
2021-22: $5.3MM
2022-23: $6.5MM
2023-24: $6.5MM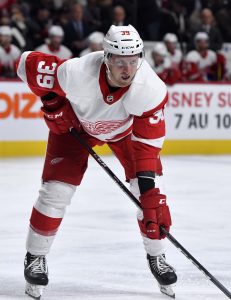 This multi-year contract locks up a core piece of the Red Wings forward group and actually becomes the longest deal on the books for GM Steve Yzerman. Mantha is the only player in the organization currently signed through the 2023-24 season, with even Dylan Larkin expiring a year earlier. That term and security likely bought Detroit some cap savings on the deal, given how effective Mantha has been in his last few seasons.
A first-round pick in 2013, it took a few years for the power forward to fill out and reach the NHL. When he did though, he brought the instant goal scoring that he had provided at every other step of the way, scoring 17 in his first full season in Detroit. Mantha followed that up with 24 goals in his sophomore campaign and 25 in just 67 games in 2018-19, showing how easily he would be able to reach the 30-goal threshold at some point.
Unfortunately, after scoring 12 goals and 24 points in his first 29 games of 2019-20, Mantha was injured when he was tossed to the ground by Toronto Maple Leafs defenseman Jake Muzzin. He would miss more than six weeks of the season, making his return to the lineup in mid-February. Perhaps even more effective down the stretch, Mantha put up 14 more points in 14 games before the season was halted, bringing his totals to 16 goals and 38 points in just 43 games this year.
That kind of per-game production, especially for a player that is still squarely in his prime, is usually rewarded with even more money than Detroit committed here. The deal buys out two years of unrestricted free agency and could look like a steal if Mantha can get healthy enough to play every night, finally reaching that 30-goal mark.
For the Red Wings, who are still in their rebuilding phase, this represents a relatively low-risk investment in a core player. Without any other long-term commitments, the team has ample cap space over the next few years to develop and sign their young talent. Names like Darren Helm, Valtteri Filppula, Luke Glendening, Marc Staal, Patrik Nemeth, and Jonathan Bernier are all on contracts that expire after this season, opening up the playbook for Yzerman to build the squad as he sees fit.
Photo courtesy of USA Today Sports Images