The Ottawa Senators have announced another signing to bring some toughness to the organization inking Micheal Haley to a one-year, two-way contract. The deal will be worth $700K at the NHL level and $200K in the AHL. Haley played last season for the New York Rangers but was an unrestricted free agent this offseason. Senators GM Pierre Dorion released a short statement on the signing:
Michael [sic] will bring experience, leadership and additional physicality to our organization. He's looking forward to serving as a mentor for our young players.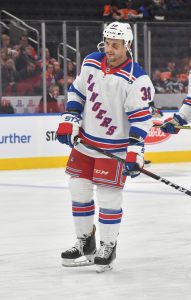 There's no doubt that the Senators will be a more physical team next season, after bringing in players like Haley, Erik Gudbranson, and Josh Brown through trade and free agency. The former, who signed today, has racked up 687 penalty minutes in his 270 NHL games, including a league-leading 212 in the 2017-18 season. Haley doesn't contribute anything offensively, scoring just 11 goals in his career, but isn't asked to in his limited ice time.
The Senators have shown a willingness to dress a player like that before, dressing Scott Sabourin for 35 games this past season despite no real offensive upside. Sabourin had scored just 15 combined points in the two previous minor league seasons, though he did actually have six for the Senators in his short NHL stint. It would be surprising to see Haley reach that amount or even get into 35 games this season for the team, especially if the schedule is reduced.
No, he's more likely going to see action only sparingly, entering the lineup against select teams to provide some toughness or spending most of the year in the minor leagues. The Senators already have a long list of forwards competing for the 12 starting spots, meaning the 34-year-old Haley almost certainly won't be a full-time option.
Photo courtesy of USA Today Sports Images