The free agent frenzy has died down considerably in the last few days, but one big name still remains on the open market. Mike Hoffman, the player ranked fourth on our Top 50 UFA board and second among forwards behind only Taylor Hall, is still a free agent more than ten days into the process. Today, Adam Vingan of The Athletic published a piece with several quotes from Hoffman's agent which indicates there is still a strong market for his client.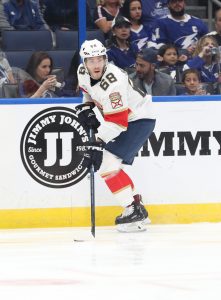 Robert Hooper of Octagon Hockey told Vingan that 13 teams have reached out, with five or six "serious" contenders. He also indicated that Hoffman may be willing to take a one-year deal similar to the one Hall signed in Buffalo, though noted that "you want to put yourself in a good situation" if you go that route.
It's hard to find many teams that couldn't use Hoffman's consistent offense in the lineup. Over six years that he has been a regular NHL player, the 30-year-old forward ranks 16th in goals across the entire NHL. The players above him are basically the NHL's elite and are almost all working on expensive, long-term deals. It hasn't come from a few outlying seasons either. Hoffman has scored at least 26 goals in five of those six seasons, with his worst output being a 22-goal campaign in 2017-18. He reached a new career-high of 36 in 2018-19, before racking up 29 in a shortened season this year.
Armed with one of the most dangerous shots in the NHL, he could help most of the powerplays in the league and become a valuable mercenary on a one-year deal. That is of course if he actually goes that route and tries to build up his value for another free agent run in 2021.
Former Florida Panthers teammate Evgenii Dadonov—who is a similarly regarded offensive weapon, if a little older and with a shorter track record—decided to take a three-year, $15MM deal with the Ottawa Senators in this depressed free agent market. He'll get big minutes on an up-and-coming team, but it does seem unlikely that the Senators will be ready to really contend for the Stanley Cup before Dadonov's contract comes to an end. If Hoffman is seeking a winner, it will be hard to land a long-term deal given the tight cap crunches almost every contender is dealing with.
Even Hall, the top free agent forward on the market and a former Hart Trophy winner, had to settle for his one-year, $8MM contract in Buffalo, where the Sabres haven't played a playoff game since 2011. Sure, there is the connection to head coach Ralph Krueger and a chance to play alongside Jack Eichel, but it's not like Hall was chasing a perennial contender.
Hoffman's market may be strong, according to his agent, but it's still extremely complicated. A lot of the available money around the league has already been spent, meaning a trade may have to happen to really open up an attractive landing spot for the soon to be 31-year-old.
Photo courtesy of USA Today Sports Images