Oct 14: Not that Johnston and Mirtle needed backup, but Elliotte Friedman of Sportsnet and Pierre LeBrun of The Athletic have both now reported interest between the Maple Leafs and Thornton. Friedman notes that several core players for Toronto have pitched the veteran forward, while LeBrun tweets that both head coach Sheldon Keefe and GM Kyle Dubas have spoken with him.
Oct 13: Once again, smoke is building around Joe Thornton and the Toronto Maple Leafs. After the veteran forward was linked to the team in the 2017 offseason (when teammate Patrick Marleau signed a three-year deal with Toronto), there has been a lingering notion that he could consider a return to Ontario at some point.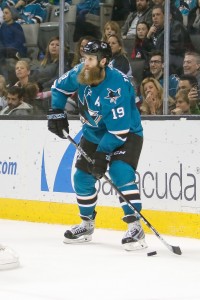 On a recent Steve Dangle Podcast, Sportsnet's Chris Johnston implied that the two sides have had mutual interest, and now James Mirtle of The Athletic has written something similar:
These talks are in the beginning stages. It sounds like there's some mutual interest. The Leafs, as they did during free agency in 2017, have let Thornton know he's wanted. And Thornton is listening, from his offseason home in Switzerland, where he's been training with a top-league club.
For a while, there has been a belief that Thornton would take his time with any decision on his NHL future. The 2020-21 season is still completely shrouded in uncertainty, with no concrete date for the start of training camp or the regular season. But if the 41-year-old center does want to come back, it's no longer a slam dunk that he will be returning to the San Jose Sharks.
While the Sharks did just bring back Marleau to chase Gordie Howe's games played record and are obviously still a contender should Thornton return, the situation feels different this summer. Kevin Kurz of The Athletic tweeted as much earlier this month, saying that though it felt inevitable that Thornton would return to the Sharks when he became a free agent in 2019, he has "gotten no indications that he's a sure thing to return" this time around.
The Maple Leafs have already made sweeping changes to their bottom-six forward group for next season, moving out Kasperi Kapanen, Andreas Johnsson, and Frederik Gauthier while bringing in Wayne Simmonds, Jimmy Vesey, Joey Anderson, and Travis Boyd. They currently still have Alexander Kerfoot penciled into the third-line center role, but the team is barely under the cap and could need to make additional moves if they are looking at any other free agent upgrades.
Thornton, meanwhile, is coming off his worst season in two decades. The Sharks legend scored just seven goals and 31 points in 2019-20, his lowest total since that 1997-98 rookie campaign. He was frustrated when the Sharks didn't move him to a contender at the deadline, telling reporters that "it would have been nice to at least have a chance" at the Stanley Cup, a prize that has eluded him over a 22-year career.
Mirtle and Johnston both were clear to point out that things are very preliminary between the Maple Leafs and Thornton, to the point where it may be just an expressed interest, not even negotiations. But the two sides have certainly flirted before.
Photo courtesy of USA Today Sports Images