After getting defenseman Jeff Petry signed to an extension last week, it appears that the Canadiens have set their sights on getting a deal done with Brendan Gallagher next.  Speaking with RDS' Francois Gagnon, GM Marc Bergevin indicated that they want to keep the winger in Montreal for the rest of his career and that they're willing to make him the highest-paid forward on the team.  For reference, Jonathan Drouin is the forward with the highest AAV, checking in at $5.5MM.  Bergevin also candidly stated that he knows a four-year or five-year term wouldn't be enough to dissuade Gallagher from heading to the open market so it would stand to reason that any extension would be longer than that.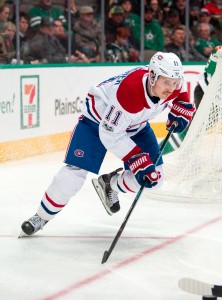 While Bergevin only indicated that talks have been preliminary to this point, Gallagher's agent Gerry Johansson told RDS' Eric Leblanc that both sides are working hard to get a deal done and are optimistic that they'll be able to get one accomplished.
The 28-year-old had scored at least 31 goals in each of the last two seasons and played at a 31-goal pace this year as well but injuries and the pandemic made that out of the question.  Even so, he picked up 22 goals and 21 assists in 59 games this season.  One element that Gallagher will have in his favor is his ability to score at even strength as only five of his 55 goals over the past two years have come with the man advantage, a skill that is always highly coveted.
Gallagher has spent the last five years playing on a considerable bargain contract given his production with an AAV of $3.75MM which will remain intact for 2020-21 as he plays out the final year of that deal.  Given Bergevin's comments, it would seem like Gallagher's next price tag should come in the $6MM to $7MM range with a term of at least six years.  Even with the flattened cap in place, there's always a high price tag on goal scoring so even with the potential for a deflated free agent market in 2021, the veteran is well-positioned for his next deal.
Montreal also has two other unrestricted free agents of note for the 2021 offseason in center Phillip Danault and winger Tomas Tatar.  Gagnon notes that preliminary discussions on a new deal for Danault occurred around the time that Petry's negotiations were ongoing (both are represented by Newport) while no such talks have occurred with Tatar's camp as of yet.
Photo courtesy of USA Today Sports Images.