The Winnipeg Jets looked like they might be primed for a long playoff run when things returned this summer, given their Vezina-finalist goaltender and deep offensive attack. Then, partway through the first game against the Calgary Flames, disaster struck. After just three shifts, Mark Scheifele was down. Writhing in pain after a collision with Flames forward Matthew Tkachuk, the Jets quickly lost their most important forward and a huge part of their leadership group.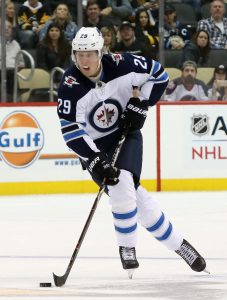 Later that game, that offensive depth was tested once again as Laine exited with a hand injury. Suddenly, the Jets didn't look quite as deep or dangerous and it quickly showed on the scoresheet. The team bowed out in the qualification round while scoring just six goals in four games.
Now, after such a disappointing—perhaps unlucky—five-game series, speculation is running rampant over what the Jets will do this summer. It's no secret that they need to upgrade a defense corps that lost Jacob Trouba, Dustin Byfuglien and Tyler Myers all in one offseason, but how exactly will they address that underperforming offense?
That question apparently leads to Laine and Nikolaj Ehlers, who both find themselves on Frank Seravalli's Trade Bait board for TSN. The scribe even writes that Laine is "expected to be in play this offseason" as the Jets fix other issues on the roster. The sniper lands fifth on his board, while Ehlers comes in at 12.
It's not the first time that Laine trade speculation has emerged. Last fall, the talented forward was quoted in Finland saying that he didn't feel he was playing with the best players on Winnipeg's roster. That distraction was quickly quashed by the team's leadership group, but given how inconsistent Laine's play has been, these questions were bound to surface again.
When he first debuted in the NHL as an 18-year old, it seemed nothing could stop the second-overall pick. Laine scored in his first game and had two hat tricks in his first month as an NHLer. He'd finish with 36 goals and 64 points in just 73 games as a rookie, coming second in Calder Trophy voting behind only Auston Matthews. The next season was even better, with Laine leading the league in powerplay goals and finishing with 44 tallies in all situations. Winnipeg had found the next Finnish Flash, able to score from anywhere on the ice.
But then came 2018-19, when Laine took a considerable step backward. He scored 21 times in his first 24 games, including a five-goal output against the St. Louis Blues in late November, but recorded just three assists over that stretch. Starting in December, he scored just four goals and nine points over his next 36 games and was dropped further and further down the lineup as his overall game suffered. He'd finish with just nine goals in the 58 games from December on, despite still averaging more than 17 minutes a night.
While he rebounded this year with a much better overall performance, speculation about his future in Winnipeg has not disappeared. Part of that also has to do with the fact that his current contract, a two-year bridge deal he signed in 2019, expires after the 2020-21 season. Laine currently carries a $6.75MM cap hit but will earn $7.5MM of the deal next season, after which he'll be an arbitration-eligible restricted free agent.
Seravalli writes that it's not "a lock" that Laine will be traded, which is obvious given his immense talent and relative youth. But if big changes are coming in Winnipeg, his name will always be at the center of any speculation.
Photo courtesy of USA Today Sports Images