It was always going to be difficult for the Boston Bruins to re-sign Torey Krug because of their salary cap situation, but that hasn't stopped them from trying. Frank Seravalli of TSN reports that the team's last offer to Krug was a six-year, $39MM contract ($6.5MM AAV). Since that may not be enough to ink the offensive defenseman, Seravalli also notes that there has been "significant interest" from teams hoping to trade for Krug's rights before the free agent period opens next month.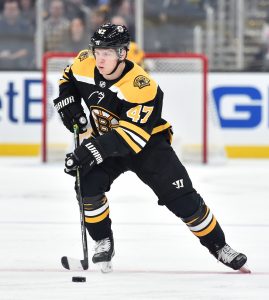 The 29-year-old defenseman is one of the top free agents set to hit the open market on October 9th, perhaps even second behind Alex Pietrangelo among defenders. There are very few players who can match his offensive output, which totaled 49 points in 61 games this season with the Bruins. In fact, over the last four seasons, Krug trails only Brent Burns, Erik Karlsson, Victor Hedman, John Carlson, and Roman Josi in scoring among defensemen, five players who are consistently in the Norris Trophy race. He's well ahead of Pietrangelo in that category, though the rest of his game is not nearly as polished.
For a team looking to improve their powerplay though, there may be no better option available. Krug trails only Brent Burns in powerplay scoring among defenseman over the last four years, a total developed through consistent performance instead of breakout seasons. The Bruins quarterback has at least 39 points in each of his seven NHL seasons and has performed even more exceptional in the postseason. Through his first 75 playoff contests, Krug has 52 points
The Bruins, with Jake Debrusk and Matt Grzelcyk still to sign as restricted free agents, aren't swimming in cap space. The team currently sits with just over $14.4MM for the 2020-21 season, but need to consider the future when discussing a long-term deal with Krug. Charlie McAvoy will be looking at a huge raise when his current deal expires in 2022, while Brandon Carlo is up after this upcoming season. There are plenty of other question marks around the roster given the expiring deals of Tuukka Rask, Jaroslav Halak and David Krejci, though that could potentially provide an opportunity to invest in younger talent instead.
Should a team trade for Krug's rights, they would have less than two weeks to work out a deal before he reaches free agency. It's tough to give up a valuable asset for that small window, though perhaps it would be worth it if you believe he is the difference-maker your team needs.
Photo courtesy of USA Today Sports Images