The Toronto Maple Leafs have now gone another year without winning a playoff series (this time not even getting out of the qualification round) and there are changes coming to the roster. Kasperi Kapanen has already been shipped out of town to the Pittsburgh Penguins for cap space and a draft pick, but more names are swirling in the rumor mill already.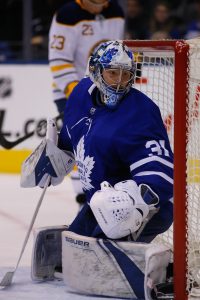 One of those names is starting goaltender Frederik Andersen, who has been already been linked to the Carolina Hurricanes by Elliotte Friedman of Sportsnet. Continuing that story, Friedman was on the radio this morning and explained what he knew about the situation:
The most concrete information I can give you is that since the rumors really got going, I think Kyle Dubas has reached out to Frederik Andersen and spoken to him twice, just to kind of fill him in on what's happening. From what I understand, [Dubas] has told [Andersen] 'we are not shopping you, but we are getting asked about you. And there are teams that have interest in you.' 

Where those conversations have gone from there, I can't tell you. But I know that's the general tone of the message.
Friedman goes on to say that he doesn't beleive the Maple Leafs will make a move "just for the sake of making a move."
There has certainly been a lot of smoke around the veteran goaltender the last few weeks, though it's not clear exactly how the Maple Leafs will deal with the situation just yet. The most important factor in Andersen's situation, perhaps other than his struggles during the 2019-20 regular season, is his contract status. Signed only through 2020-21, he would need a new deal from the Maple Leafs if he is to be their starter moving forward. The fact that he will turn 31 next month and just had the worst season of his career doesn't help his case to sign a long-term deal, but it's not like Toronto has an in-house option ready to replace him.
In terms of their depth chart, the Maple Leafs did acquire Jack Campbell from the Los Angeles Kings earlier this year, but he has never appeared in more than 31 games in a season. The team locked him up with a two-year extension, but it's hard to see them handing the keys to him for the majority of the games next year. Joseph Woll and Ian Scott are both interesting prospects but neither one appears to be ready for the NHL, leaving free agency and trade the only options to find an upgrade in net should they move on from Andersen.
Of course, this year may be the best chance to do that given the glut of goaltenders available. Robin Lehner, Jacob Markstrom and Braden Holtby are all scheduled for unrestricted free agency, while other names like Matt Murray (a former Sault Ste. Marie Greyhound, where Dubas cut his teeth in the OHL) and Alexander Georgiev could be available in trade.
If the Maple Leafs are looking for a substantial return in an Andersen trade, it might not be out there. The St. Louis Blues recently had to settle for a third-round pick in a trade for Jake Allen, despite a pretty comparable situation. Andersen is almost a year older than Allen and costs a little more against the cap next season, but both are scheduled to reach free agency in 2021. Allen lost is starting gig in St. Louis last year, but had a much better statistical season than Andersen in 2019-20. While an argument can certainly be made about the defense corps each goaltender is playing behind, it's hard to see a considerable package coming back to the Maple Leafs in a trade.
There is one more interesting twist in his value however, and that is the fact that $4MM of Andersen's $5MM cap hit will be paid in a signing bonus this season. That means an acquiring team would only need to pony up $1MM for the year, something that might be very interesting in a depressed financial climate. Andersen also holds a partial no-trade clause, with which he can block moves to ten teams around the league.
Photo courtesy of USA Today Sports Images