New Arizona Coyotes GM Bill Armstrong has plenty of work to do in the coming weeks, especially if the reports of slashing payroll are true. The Coyotes could be one of the team's most affected by the current financial landscape in the NHL, meaning sweeping changes may come to their roster this offseason.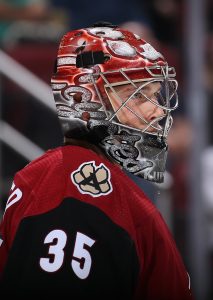 One player drawing plenty of interest is goaltender Darcy Kuemper, who according to Elliotte Friedman of Sportsnet has been asked about by the Calgary Flames, Carolina Hurricanes, Chicago Blackhawks, Edmonton Oilers, and San Jose Sharks. Each of those teams has uncertainty in net for the 2020-21 season, or at least could use an upgrade at the position.
Kuemper, 30, has two years left on his contract with the Coyotes and carries a $4.5MM cap hit but has been one of the most dominant goaltenders in the league for the last several seasons. Since the start of 2017-18, Kuemper has posted a 55-38-15 record with 11 shutouts and a .924 save percentage in 113 appearances. He finished fifth in Vezina Trophy voting a year ago but ended up playing in just 29 regular season games this year due to injury.
In a recent column by Pierre LeBrun of The Athletic, James Reimer's name is listed as a possible target for Arizona, given that almost his entire salary has already been paid out in the form of a signing bonus. Reimer has just $850K left to earn this year, and LeBrun also notes that Kuemper is a target for Carolina. Reimer and Petr Mrazek split the duties in Carolina this season and were just okay, a continuing theme for the Hurricanes goaltending situation over the last several years.
The Coyotes of course also have Adin Hill freshly inked to a new contract and ready to take on at least a backup role at the NHL level. They don't necessarily need to bring a goaltender back in any Kuemper deal, leaving the netminding duties to Hill and Antti Raanta this season.
Kuemper also isn't the only Arizona player being asked about. The Flames, Oilers and Boston Bruins have all "checked in" on Oliver Ekman-Larsson according to Friedman, while the Colorado Avalanche have asked about Niklas Hjalmarsson. If the team is really looking to cut payroll, captain Ekman-Larsson would obviously be an easy target, given the seven years and $58MM remaining on his huge extension signed in 2018. The 29-year-old defenseman does however have a no-movement clause, complicating any potential trade.
Photo courtesy of USA Today Sports Images